The Queue: Spiders from Outland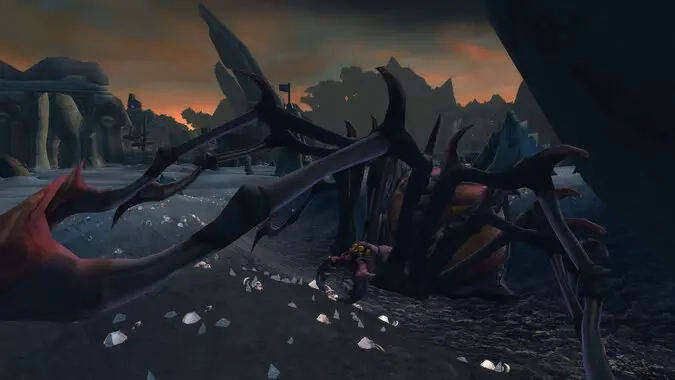 Outland is as close to Mars as I think exists in the Azeroth universe. Some of it's even red!
I'd bet at least five BlizzardWatch Bux™ that there's even a quest in Burning Crusade that references David Bowie.
While I try and remember all of the quests from 2007, it's time for — The Queue!
---
DIDN'T KNOW WHAT TIME IT WAS, THE LIGHTS WERE LOW I LEANED BACK ON MY JæKSDæDI
QftCory: What music video do you think would make a great RPG setting or adventure?
So there's this old song from MC Frontalot called I'll Form the Head. This would make for a great mix of your standard Voltron rip-off for gameplay, where you can fight giant monsters in animal-themed robots. However, there's also the social aspect of it where you have to balance your teammate's needs and wants to ensure that everyone is working together correctly to actually beat those monsters.
Give all of your players different goals and let them loose to see how many monsters they can beat, and how many times they get to be the top spot in the robot.
I would also accept Miike Snow's Genghis Khan as a spy/romance game.
---
SOME ARTHONOS WAS LAYIN' DOWN SOME ROCK 'N' ROLL "LOTTA SOUL," HE SAID
I you were in a karaoke contest with money on the line, what song would you feel confident singing and think would most impress the judges?
First off, no song I sing is going to win me any money at karaoke. I'm not a strong singer, and I have trouble staying on key. I'll try my best though, and as long as there's a nice amount of reverb and the drinks have been flowing I won't make a complete fool of myself. Well no more than usual.
It's a toss-up between Men At Work's Down Under and Great Big Sea's Chemical Worker's Song. Both of which I've sung a few times, Down Under actually at karaoke and Chemical Worker's Song just by myself. It's impossible to find any Great Big Sea in any karaoke book, which is odd because they're usually pretty popular and have easy chorus' that people can sing along with.
---
THERE'S A GLOWING METEOR CARROT WAITING IN THE SKY
Both are good, but in my experience, I've had more good pumpkin beers than maple ones. I don't know how it happened, but maybe maple just makes things too sweet for beer.
I absolutely love it for whiskey though. Maple Crown Royal is extremely delicious and combined with eggnog is divine. It also works well with your standard cola.
If only pumpkin beer was more of a year-round thing! I also really like Pumpkin Spice Lattes, which may or may not work with maple whiskey…
---
MUSEDMOOSE'D LIKE TO COME AND MEET US BUT HE THINKS HE'D BLOW OUR MINDS
What game do you think really needs transmog that doesn't have it?
My extremely biased opinion is, of course, Baldur's Gate 3.
Every game.
This is a bit of a cop-out answer, but I've never met a game that I didn't want transmog in. Maybe there's a favorite set that I'll want to keep wearing for long past when it's viable, or I want to try and match my look to the area I'm in — either way the game needs a transmog system. Let me make the chaotic mish-mash of armors that looks wildly out of place in every cutscene, or let me start a new game+ looking like I can wield the very powers that make up the cosmos as I run around killing rats in cellars.
---
RED'S TOLD US NOT TO BLOW IT 'CAUSE HE KNOWS IT'S ALL WORTHWHILE
What's the most underrated game you've ever played?
Mass Effect Andromeda.
If Andromeda hadn't had such a shaky launch than maybe we'd be talking about how great its sequels are right now, because sure there were some weird graphical things and balance things going on with it at the beginning of its life, but by the end I thought it was a really good Mass Effect game!
I loved the combat, it used the vertical levels well, and I love that it gave me a jetpack. It's very satisfying to pop up into the air, and then biotic charge my way across the room so that I can introduce random henchman #7 to my shotgun.
Andromeda also had a very satisfying last mission where you've finally gotten the rag-tag group of societies that you've found to work together and assault the big bad guy. I'm not saying that it reaches the highs of Mass Effect 2's suicide mission, but it also doesn't end in a giant reaper skeleton face, so it's got pros and cons.
My biggest hope is that Bioware has learned the right lessons from the last ten years and has applied them properly to the next Mass Effect game, and Dragon Age — which will be out first.
---
LOOK OUT YOUR WINDOW, I CAN SEE ARTHONO'S LIGHT
Q4tQ: What stupidly foolish thing do you wish you could attempt in life? I've driving up Mt Washington several times and it takes about half an hour, but I'd love to try it this fast:
I want to go sky-diving! But not like regular sky-diving, I wanna do the really wild jump out on the edge of the atmosphere sky-diving. I bet that is amazing. I don't have any of the training to do it, so I'd probably pass out and then wake up 2000 feet below when I needed to pull my chute — if I wake up at all — but oh boy is it appealing!
---
LET THE LIZ LOSE IT, LET THE LIZ USE IT, LET ALL THE LIZ BOOGIE"
Q4Cory: what's David Bowie's best song and why is it Life on Mars?
I will also accept anything from Labyrinth, which I do not think is his best work but I also love unconditionally.
Bowie has a great catalog! I'm still sticking with my original question and going Under Pressure though. Even if it is technically a Queen song, which is something I've heard before Kal — the heart wants what the heart wants! I do acknowledge though that Under Pressure isn't the best Queen song, although it is up there, The Show Must Go On takes that place.
If I'm forced to choose a Bowie song that isn't Under Pressure I'm going with Starman. This is still a hard choice because how do you choose between all of those other huge hits? It could easily have been Heroes, Life on Mars, Space Oddity, The Man Who Sold the World, Bring Me the Disco King, or any of the Labyrinth soundtrack.
Now since Liz wanted to kick off a whole David Bowie week here:
Q4Anna What do you think made David Bowie stand out so much as a musician? Is there a better nickname than the Thin White Duke?
Summer is winding down so make sure that you get in maximum lounging while you can, I know Bacardi is! Of course, he's a cat, so his whole life is lounging…
At least that makes it easy to boop his nose for luck! I'm sure this week you'll see that extra special last piece you were waiting for from your vault! I have a good feeling about it.
Today's Anna Earworm™: Starman
Today's Queue was a bit more musical than usual, so make sure to keep the rhythm going and ask Anna lots of questions for tomorrow. They can be music related or not, but if you break the tempo I'm gonna be upset.