How to get rid of the exclamation point on your UI in Hearthstone Battlegrounds Season 5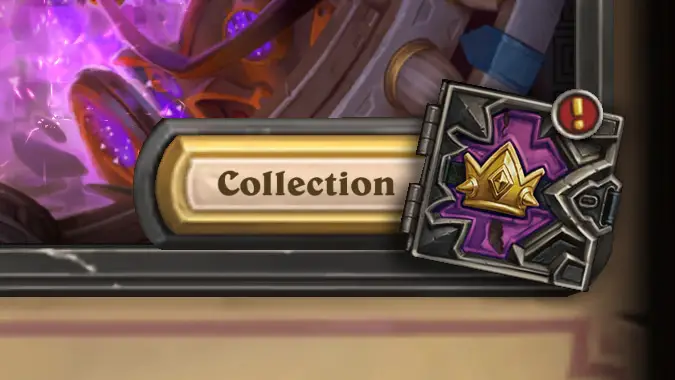 There are few things more liable to ruin my day than an indication on an app or UI element that I have an unread alert that I can't seem to get rid of, and the little exclamation point on the Collections tab of the Season 5 Hearthstone Battlegrounds UI is no exception. Between the card refresh and the twist present in every match with Anomalies, I was having a blast during the Season kickoff grind, but little by little, my inability to get rid of that blasted notification was really starting to get under my skin. I tried a lot of methods to get rid of it, eventually taking the time to painstakingly surf through all of the skins of Heroes I own, one by one, inch by inch, but still, that little exclamation point persisted.
But then, I figured it out, and now I can tell you how to rid yourself of this menace as well. It's not technically a bug, but it is an unanticipated interaction. So how can you get rid of your own annoyingly persistent mocking UI element? It's all the fault of one currently elusive Hero.
The issue will begin when you go past Level 7 on the Battlegrounds Rewards Track for Season 5. At that level, for both paid and free players, a new rare skin enters your Collection for Lord Barov — Bookie Barov. However, as of May, Lord Barov has been removed from play due to an unspecified bug, and hasn't been hotfixed back into play yet. As such, you won't be able to find him within your normal list of Heroes. Instead, you have to hit the "Show All" button at the top of the page, scroll through literally every single skin that has ever been put into the game six at a time until you get to the Heroes whose names start with L, like Lord Barov. Mouse over Bookie Barov, and at long last, our collective notification nightmare will be over. Your skin will be clear. Your crops will be watered. Peace will return to the realm once more.
Well, until I commit a justifiable Banana Slamma motivated murder. No jury would ever convict.