The Queue: Don't have -UCK in your canned soda's name.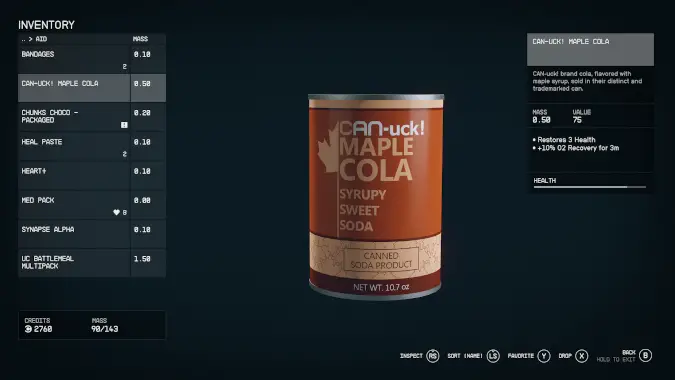 In the future of Starfield, the legacy of Canada is a series of really weird canned sodas and other canned foods.
Consider me nonplussed. The original meaning.
I mean, CAN-uck? That is not an appetizing name. They actually have canned Poutine, y'all. That's not right. That's  not right at all.
---
I mean, where is the lie, although I'm sad we don't get one for the boys.
---
LEFTY
Booo I can't use the tier converter on either of the heroic or champion gloves my paladin got from Ulduar timewalking/ the TW goodie box.
*flips table*
I'm sure this is a deliberate choice by Blizzard, but I disagree with it, so I'm just going to say so here.
---
SALVIATI
Q4tQ: What made you pick your profile picture, or stick with the one you've got?
I don't remember exactly what prompted me to pick my original Samurai Jack profile picture, probably the revival, but what made me stick with it was the unique color of it. It was easy to pick out which posts were mine because very few other avatars had that color (Tristan2004's Hooty avatar is the only other one that catches my eye…)
Just decided to switch mine up after spending too much time donking around with this link, which lets you make your own star trek avatar picture, and the fact that the engineering background is almost the same color as my previous one…
My profile picture comes from this.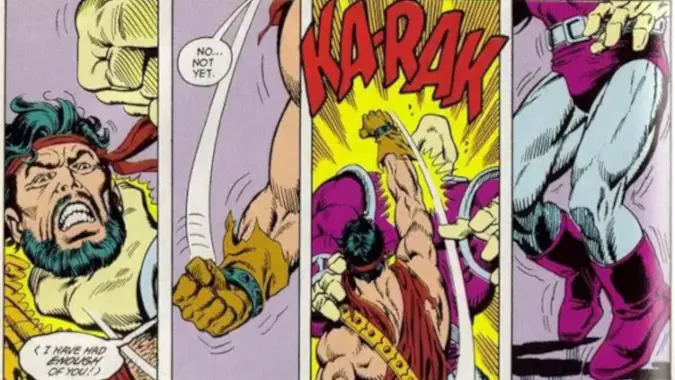 It's the climactic fight in  the Superman: Exile storyline. Having exiled himself from Earth due to his guilt over killing three Kryptonian criminals with Kryptonite (it would take a while to explain) a Superman who hasn't been able to recharge his powers is getting slowly weaker while also being forced through gladiator combat on an artificial planet named Warworld by the tyrant Mongul.
Mongul is basically discount Thanos, except that he was created by Jim Starlin, the guy who created Thanos in the first place as a discount Darkseid, who Superman has also fought. Comic books, everyone.
Anyway, at this point in the story, Superman has refused to kill any of his opponents in the ring, and so Mongul demands he kill the last one. Superman basically says no thank you, and so Mongul attacks Superman directly and manages to knock him out. Afraid that he won't be able to kill Superman with a weapon he takes him to a dungeon to torture and kill both Superman and his opponent Draaga. Superman objects, and the fight kicks off with Superman breaking his bonds.
Exhausted and down to a fraction of his usual strength, Superman gets manhandled by Mongul, who gets pretty irritated with him for the whole not dying already thing. Thus, this final exchange, where Mongul grabs Superman's neck and growls I have had enough of you!
That third panel, to me, is Superman personified. Alone in an alien place, surrounded by enemies and even the ones that aren't his enemies calling him foolish and naive for not killing his opponents — Draaga practically demands Superman kill him once he knows he's beaten — and with his powers dwindling away fighting someone who is an even match for him when he's fully charged, he puts everything he has left into one punch to knock Mongul cold. And why? To save someone who has tried to kill him and thinks he's an idiot for not trying to kill back.
---
LUOTIANX
I asked 8yo what she wanted for her birthday. She said another cry baby doll.
I do not think that I can express enough how much I do NOT want to do that.
Just tell her you couldn't get it. Make sure never to specify why you couldn't. She doesn't need to know it's because the idea of doing so made your soul throw up.
---
RJAGODA
Anyone who is more tuned in than I am to transmog: Have they said anything about being able to catalyze to Season 1 stuff? Specifically, I am missing two pieces from my Mythic set, can I go get those?
As plenty of people said in the comments, yes, there aren't any changes to the old Catalyst system. But I figured someone else might want to know, so here we are.
---
FALRINN
Me 20 minutes ago: Idly recalled the one time years ago I was pulled over for expired vehicle tags.
Me 19 minutes ago: Oh crap, I have expired tags right now.
Me now: Since the DMV was still open… don't have expired tags anymore
You got through the DMV and got your tags renewed in 19 minutes?
Since you are clearly in league with the forces of darkness, I have to say thank you for not using your vast evil power for world conquest.
---
SOEROAH
Man, it's gonna be a tough week to keep up with WoW. On top of a few new things to grind out (going surprisingly well, already at 18 charred remains after just 7 kills, three lots of three almost in a row) slowing me down from my usual weekly stuff, I've got more life obligations than usual this weekend AND it's a comp stomp week, AND I kinda wanna run heroic Dawn for time rift rep
For me, while Dragonflight was one of my favorite expansions and I was very much enjoying it, Blizzard went and put out Diablo 4 and that really destroyed my ability to play any other game, and then just as I was getting ready to come back in I started getting pummeled with other games I wanted to play. I mean, between D4, BG3, now Starfield and Cyberpunk 2077: Phantom Liberty at the end of the month I barely log in to WoW more than one every couple of days.
It's not because I don't like the expansion, it's simply game overload.
---
ARTHONOS
Q4tQ: Blizzard teased that there will be a new Legendary coming in 10.2, so let's wildly speculate about what it could be! Any thoughts, ideas, or hopes?
It's a polearm and it's Ashkandi with a stick tied to the hilt.
Hey, you didn't say good speculation.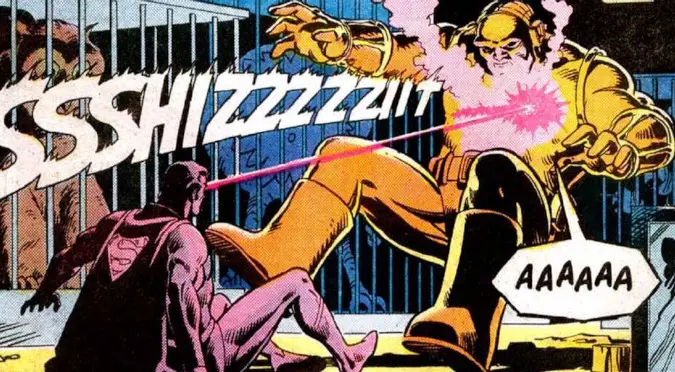 I am an utter sucker for seeing Superman mess up Mongul. It's honestly kind of cathartic.
This has been the Queue. Hug your loved ones and try and be kind to yourselves.