The Queue: Time to riot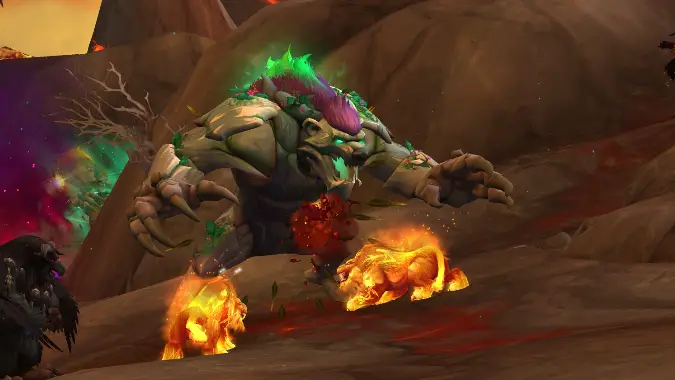 I told Mitch in our staff chat that if the new Legendary wasn't something bears could use I would riot — and here we are!
The patch is literally called Guardians of the Dream and they can't throw bears a bone!? How dare they! Calling it Dream Render is right, consider my dreams well and truly rent.
It's fine. I'm fine.
I'm sure they'll give us some more updated models and I'd be surprised if we don't get to use the new stony Furbolg bear form that we've seen. So I guess I'm getting something that lasts longer than a raid tier, but still! No better time to give us Druids a cool weapon than when we're hanging out in the Emerald Dream.
While I sharpen my pitchfork, it's time for — The Queue!
---
I GUESS I JUST LOST MY SJHAWK I DON'T KNOW WHERE HE WENT
Finally, i see my last T3 piece on the BMAH
Congrats! I hope it's one of the cheap ones and not like the shoulders or hat.
---
I GOT A BRAND NEW JALAMENOS AND I'M GONNA WEAR IT TONIGHT
Q4tQ: Stealth is optional. What is your approach?
I try and do the mission stealthily.
At least until I get caught, then it really depends on what the optional stealth gets me. I've been playing a bunch of the Ryujin corporate espionage missions in Starfield the last couple of days and you get bonuses at the end for good performance. Which of course means that I've been save scumming any time I get caught as I sneak from vent to vent.
If there's no difference between doing it stealthy and loud though… that first setback means it's time to go ham and leave a trail of destruction three miles wide behind me.
---
SO, SO WHAT? I'M STILL A VALENCEMAGI
Is Tubthumping old enough to be retro / used ironically in an Epic/Accoustic version in movie trailers yet? Discuss.
If the vibes fit!
Honestly, I'm surprised it's taken this long. The lyrics about getting back up and never being kept down are super in line with a lot of movies. That's basically the plot of any revenge story or Batman movie.
I know there are people out there who poo-poo the idea of the slowed-down pop song to use in trailers, but I don't hate it! Obviously, your mileage may vary, but I like the little game of guessing what song it is. I also really like the soulful sad rendition of an otherwise happy sounding song for use at funerals. I can't link my favorite because it's super-duper spoilers for The Magicians, but if you know you know.
I can however link this Anya Taylor-Joy version of Downtown from Last Night in Soho.
---
I GOT MY ROCK MOVES AND I DON'T NEED YOU RED
Well, now it is!
Also when I was writing this it was too.
I think that the only time that wasn't true was when you asked it.
---
I AM A ROCK STAR I GOT MY ROCK MOVES AND I DON'T WANT YOU JæKSDæDI
QftQ: What do you think the next expansion's title will be?
World of Warcraft: Stop letting powerful enemies get away!! — Lookin' at you Azshara
World of Warcraft: I can't believe it's not Old Gods again — I can believe it's not butter though
World of Warcraft: Cataclysm Two — Electric Boogaloo — An oldie but a goodie.
World of Warcraft: Remember Khadgar? He's back, in pog form! — Miss you Khadgar!
World of Warcraft: Only one Pirate allowed — Get it? Cause there are no Pirates!
World of Warcraft: Harbingers of the Stone — WoW needed a HoTS acronym.
Any one of those is super likely! But if you want an actual guess, I guess I could provide one too.
World of Warcraft: Voidfall
The Void comes a-knockin' at Azeroth and they use it as an excuse for us to spend most of our time on one or both of the moons.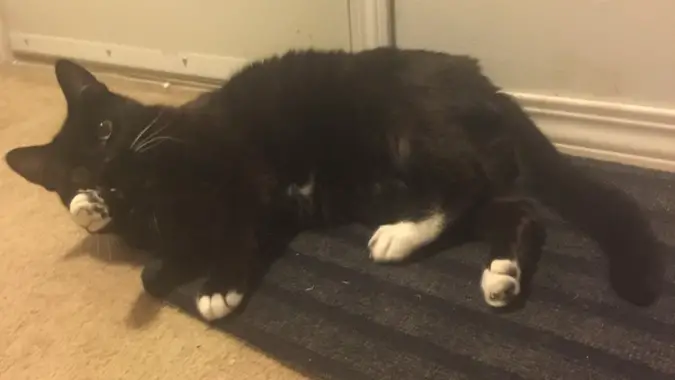 Much like Bacardi is very surprised here that I can see him while he's grooming himself on the mat, you'll be surprised at the quality of loot in your vault if you give him a boop!
Today's Anna Earworm™: So What
I hope you all have a nice relaxing week full of many successes! A good way to start that off is to leave Anna lots of questions for tomorrow!