Hearthstone will introduce Catch-up Packs that can have up to 50 cards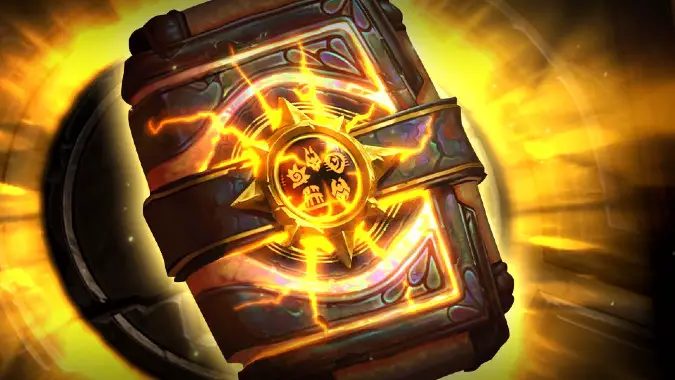 Hearthstone will soon introduce a strong new way for players to catch up with the times: Catch-Up Packs are a new type of Hearthstone pack that can have between five and 50 cards in them. The exact number depends on how many cards you already own for the expansions that are currently part of the Standard rotation.
These Catch-Up Packs will always feature cards from a certain set of expansions: the first ones are designed to allow players to get ready for the upcoming Showdown in the Badlands expansion by including cards from the five Standard expansions that came prior to it — that's Voyage to the Sunken City, Murder at Castle Nathria, March of the Lich King, Festival of Legends, and Titans. An important note is that these set of packs will always include cards from those five sets — and only those five sets — regardless of when you open them.
Cards will be divided evenly: you'll get between one and 10 cards from each of the five sets above, adding up to the aforementioned total of five to 50 cards. The number of cards players get from each set is calculated based on the percentage of cards they already own for that expansion:
If you own less than 25% of the cards for an expansion, you'll get 10 cards from that expansion.
If you own more than 75% of the cards for an expansion, you'll get one card from that expansion.
If you own between 25% and 75% of the cards of an expansion, you'll get a number between 10 and one, calculated using linear interpolation (and then rounded), as such:

20% collection → 10 cards
25% collection → 10 cards
30% collection → 9.1 cards
35% collection → 8.2 cards
40% collection → 7.3 cards
45% collection → 6.4 cards
50% collection → 5.5 cards
55% collection → 4.6 cards
60% collection → 3.7 cards
65% collection → 2.8 cards
70% collection → 1.9 cards
75% collection → 1 card
80% collection → 1 card
Catch-Up Packs do not contain any Golden cards, so every card you get from them will be of "normal" quality. Just like with regular packs, at least 20% (rounded up) of the cards in each Catch-Up Pack will be a Rare card (or better), and the overall rarity distribution for Catch-Up Packs is the same as the one for normal packs. Finally, players are guaranteed one Legendary in the first 50 cards from each expansion.
Everyone will get some Catch-Up Packs for free, and be able to acquire a few more later:
People who are attending BlizzCon in person or who have purchased either BlizzCon Collection level will get three Catch-Up Packs.
A free login reward of two Catch-Up Packs will be offered to all players.
An upcoming event will grant five Catch-Up Packs once patch 28.0 releases, in the future.
Also in patch 28.0, Catch-Up Packs will be added to the new and returning player experience.
The in-game shop will feature bundles that include Catch-Up Packs.
Once they do acquire those Showdown in the Badlands Catch-Up Packs, players will be able to open them as soon as the expansion releases, on November 14. So whether you're a current or returning player, happy catching up!