New Clash game mode and maps coming to Overwatch 2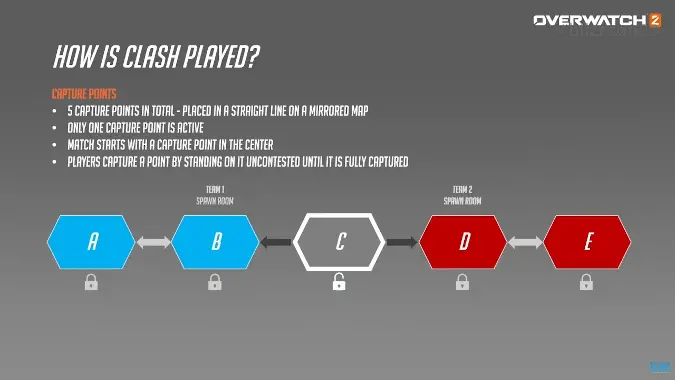 While we lost the Assault map mode — frequently called Two Control Point, or 2CP, by fans — when Overwatch 2 began, the map mode and its beautiful maps were just waiting for a remix. The new map mode Clash, as shown off at BlizzCon 2023, was also called 5CP by the developers, and it is the spiritual successor to that mode, including some references to the original 2CP map, Hanamura.
Overwatch 2 Game Director Aaron Keller began by listing the development challenges of the old 2CP maps, which were not at all coincidentally the same reasons they were the least favorite maps among the playerbase. 2CP maps were too favorable to defenders, but at the same time if the offense could snowball the first point, they almost always took the second relatively easily. In general, the map tended to feel unfair, and therefore just wasn't that fun to play. They hoped to change this with Clash, which they're calling 5CP.
Clash has a lot more of a back-and-forth feel, almost like 2CP and the newer Push map mode had a baby. Clash starts with a free control point to take in the middle of the map. After that point is taken, play will transfer to a new control point on the turf of the team which didn't take the first point, much like Push. There are five nodes in total across the map. In order to win, you can either capture the control point closest to the enemy base or, as play will likely seesaw back and forth between points, on score. The details here aren't quite nailed down — how many points? Do the further control points award more match points? — but we'll get more information soon.
The first Clash map is called Hanaoka, and is a spiritual successor to the 2CP Hanamura map. The developers noted that you can actually see a few features of the older map from the newer map, as not only do they look similar aesthetically, but they're actually in the same neighborhood.
It's unknown when we'll be able to play Clash, but we're excited to see it in action.