Class-specific Malignant Rings return Season 1 powers to the game full-time — now live!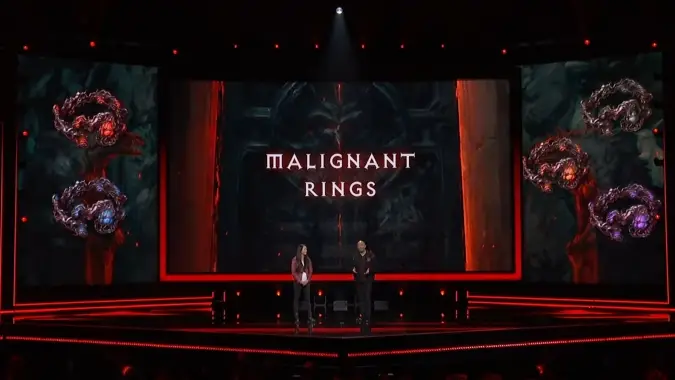 In the Diablo 4 section of BlizzCon Opening Ceremonies, Production Directors Tiffany Wat and Chris Wilson announced five class-specific rings: Malignant Rings. These rings will return powers from Season 1 to the title full time on November 7 in patch 1.2.2, which is now live!
While these will be familiar to people who played during Season of the Malignant, all five powers have been slightly adjusted for permanent inclusion. Here are all five Malignant Rings currently available:
Barbarian's Ring of Red Furor — After spending 100 Fury within 3 seconds, your next cast of Hammer of the Ancients, Upheaval, or Death Blow is a guaranteed Critical Strike and deals 10-30%x bonus Critical Strike Damage.
Druid's Airidah's Inexorable Will — When casting an Ultimate Skill and again 5 seconds after, you Pull in Distant enemies and deal 1,380-2760 Physical damage to them. This damage is increased by 1.0%x per 1 point of Willpower you have.
Necromancer's Ring of the Sacrilegious Soul — You automatically activate the following equipped Skills on Corpses around you:

Raise Skeleton every 2.0 – 1.0 seconds.
Corpse Explosion every 2.0 – 1.0 seconds.
Corpse Tendrils every 16 – 8 seconds.

Rogue's Writhing Band of Trickery — Casting a Subterfuge Skill leaves behind a Decoy Trap that continuously Taunts and lures enemies. The Decoy Trap explodes after 3 seconds dealing 5,521 – 8,281 Shadow damage.
Sorcerer's Tal Rasha's Iridescent Loop — For each type of Elemental damage you deal, gain 10.0 – 15.0%x increased damage for 4 seconds. Dealing Elemental damage refreshes all bonuses.
Appropriate to their origins, these rings are obtained by taking down Varshan, whose mini-dungeon first becomes available in World Tier 3 (level 50+). Find his unique doorway next to the Tree of Whispers, but remember to bring the necessary body parts to summon him. If you are missing a particular body part for summoning, leverage some of your extras with the Alchemist to convert them (gross).
As a Necromancer player, I'm incredibly excited to include Sacriligious in my Infinimist build, as it makes the corpse skills that much easier to leverage.