A Diablo-themed TTRPG is in development… but that's about all we know.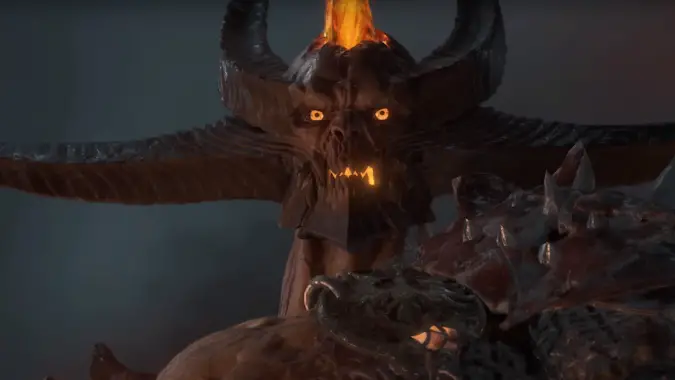 Glass Cannon Unplugged — primarily known for adapting game properties into board games like Apex Legends, Frostpunk, and Dying Light — is currently developing a Diablo board game and Diablo TTRPG. And if you missed this one, don't feel bad, because I did too. A Diablo RPG would seem to be Glass Cannon's first move into TTRPG design, and it will be interesting to see how they tackle the project. The company is currently surveying players to see what we want from such a game, and I encourage you to comment (I already have) and tell them the kinds of things you want to see in a Diablo TTRPG.
This isn't Diablo's only foray into pen and paper tabletop RPG play — there was a sourcebook and a long-form adventure for Dungeons & Dragons 3e set in the world of Diablo 2 all the way back in 2000, and we even saw an original Diablo TTRPG liveplay at BlizzConline in 2021, run by Matt Mercer. But Glass Cannon's upcoming game is the first standalone Diablo TTRPG using its own system, and the sheer scale of what's possible with the world of Sanctuary in a tabletop RPG format is pretty exciting to me.
You could run a campaign back at the dawn of the world when the Angels and Demons who fled from the Eternal Conflict had first sired the Nephalem, or a game set in the period of time when the Ancients saw their descendants turning into humans due to the power of the Worldstone. There are the Mage Wars, or the Sin Wars, or we could even get to see the Dark Exile of the three Primes to Sanctuary as members of the original Horadrim. An entire campaign where your group actually plays through all the trials and tribulations of hunting down the three Demon Lords and halt their rampages across the world. Just thinking about all of this makes me feel a little giddy, I'm not going to lie. Heck, we have the whole period of time between Diablo 3 and Diablo 4 — what was going on in the aftermath of Malthael's wiping out of most of humanity?
But right now, all we really know is that Glass Cannon Unplugged is working on the game and planning a Kickstarter campaign in 2024. Given their track record of video game adaptations to tabletop board games, I'm pretty willing to believe it will happen, and I'm very curious to see how that Kickstarter campaign ends up working out.