WoW
Nov 17, 2023 10:00 am CT
World of Warcraft's 19th Anniversary event is now live with a 19% XP and reputation boost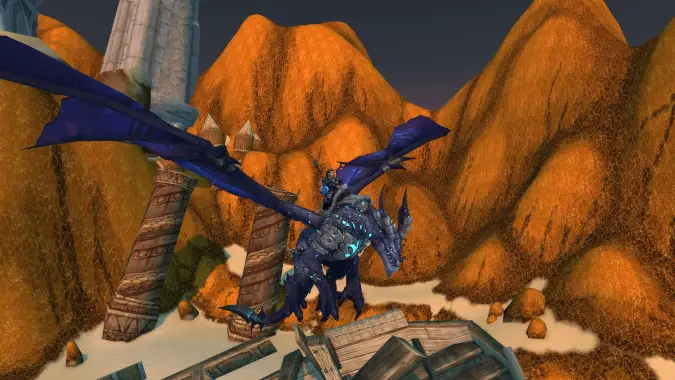 World of Warcraft is 19 years old and for the next three weeks players will want to visit the Caverns of Time to celebrate it in-game. While there are no major changes to the event this year, there is a new pet and mount available that are sure to get collectors excited.
The theme this year is ice, as the rewards are frosty recolors of previous rewards. The pet is Lil' Frostwing and is rewarded to the first character on your account that opens the birthday celebration package. The mount is the Azure Worldchiller and is modeled after the Obsidian Worldbreaker from the 15th Anniversary. To acquire the Worldchiller you simply need to make your way to the entrance of the Caverns of Time where once again Doomwalker is running rampant — the first time it is defeated you'll get the mount. For those who missed the Illidari Doomhawk the previous two years you can now purchase it for 5000 Timewalking Badges.
As always the anniversary package characters receive includes a reputation and experience boost of 19% to match the birthday. This is very well-timed as many players are working to improve their Renown with the Dream Wardens and (despite concerns to the contrary) the anniversary boost does apply — although it is important to note that the 19% is calculated off the base reputation value before any bonuses such as the "Essence of a Worthy Ally" is considered.
All the previous activities are up, with Korrak still seeking his revenge in Alterac Valley of Olde and the Original world bosses needing to be defeated. If you're fortunate enough to get a gear drop from them on a level 70 it will be ilevel 441 and is upgradeable. In addition the daily trivia questions have returned with the promise of new questions, so you may not be able to get 50% of them correct just by choosing "Mur'ghouls" this year.
With the 20th Anniversary next year one could've easily expected nothing major or new for the 19th so it's a welcome surprise to get a new mount and pet. There are also new "chronocrystal displays" replaying even more cinematics from the past 19 years down in the Caverns of Time so be sure spend some time revisiting Azeroth's history.
Please support us on Patreon by subscribing or increasing your Patreon tier. Donate by November 30 so we can keep creating the quality content you enjoy.