WoW
Nov 8, 2023 9:00 am CT
Meet the Dream Wardens, our latest allies and the new Renown faction in Dragonflight patch 10.2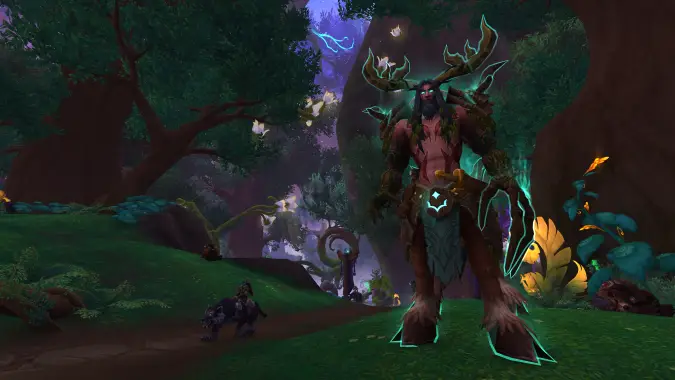 The Emerald Dream is the newest zone in Dragonflight, arriving in patch 10.2 this week, and it's home to our newest allies and latest Dragonflight Renown faction, the Dream Wardens, who are the resident protectors of the Emerald Dream. Previously, we saw green drakes called Dream Wardens in Cataclysm's Dragon Soul raid, but now the Dream Wardens will also include Keepers, dryads, druids, and runebears alongside members of the Green Dragonflight.
In patch 10.2, Fyrakk has crossed over directly in to the Emerald Dream and launched a direct attack against the World Tree sapling, Amirdrassil, whose growth has started to cross over in to Azeroth. Fyrakk isn't alone, and he's brought the Zaqali Djaradin as well as his newest allies — the Druids of the Flame — with him to see his plan through. It's up to the Dream Wardens to stop him, and they'll need our help to do it.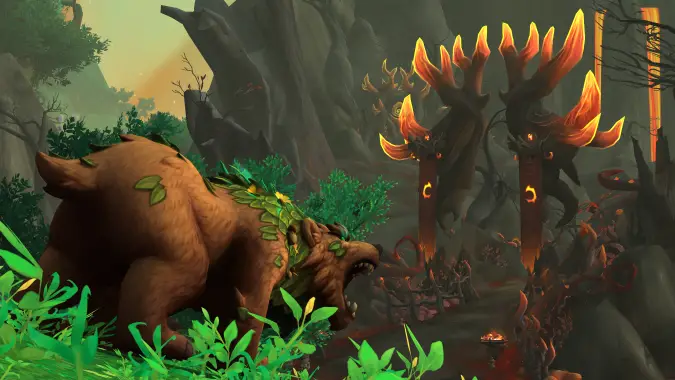 The Emerald Dream will be the main stage for the story in patch 10.2, culminating in Amirdrassil, the Dream's Hope, the final raid of Dragonflight. The patch also introduced three new interconnected public events, taking place exclusively in the Emerald Dream — and the Dream Wardens are right in the middle of it all.
Much like patch 10.1 and the Loamm Niffen, patch 10.2 has a quest early on in the story, A Multi-Front Battle, introducing players to the Dream Warden faction and opening up the Renown track. Starting the 10.2 campaign will also award you with a fabulous new dragonriding mount, the Flourishing Whimsydrake. Here's a rundown of all the rewards you can collect from the Dream Wardens.
Keeper Amrynn is the Keeper of Renown for the Dream Wardens while Moon Priestess Lasara is the quartermaster, selling cosmetics, armor, mounts, pets, and Drakewatcher Manuscripts for the Whimsydrake based on your Renown level. Like the other Renown factions in Dragonflight, players can advance the Dream Warden Renown track by completing story and expansion quests, world quests, the Superbloom public events. A new version of the A Worthy Ally weekly quest is also available and rewards Dream Warden reputation for completing it.
There's still a lot to learn about the Dream Wardens, the Emerald Dream itself in patch 10.2, now live!
Originally published on September 7, 2023. Updated on November 8, 2023.