Get ready for betas by setting up your Battle.net beta profile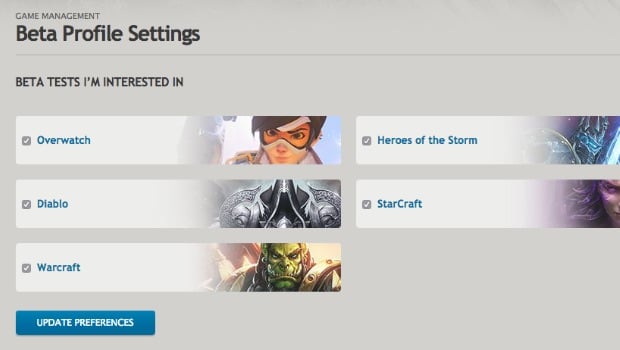 Though we don't know exactly what Blizzard will be showing off at PAX this weekend, we can safely assume that the beta for Overwatch is somewhere on the horizon. Whether beta testing is announced this weekend or not, it doesn't hurt to set up your Battle.net account's beta profile settings which determine whether or not Blizzard will invite you to beta test upcoming games. Though it's no guarantee you'll get a beta invite when they're available, not updating your beta settings (to which Overwatch was only recently added) is a pretty good guarantee that you won't get an invite. So follow these steps and check your beta profile settings now:
Log on to Battle.net for your region.
Click on the Games & Codes menu and select Beta Profile Settings from the drop-down menu.
Click the checkbox next to any games you're interested in beta testing; you'll probably want to click Overwatch.
Click Update Preferences at the bottom of the screen to save your settings.
Now that we've got that taken care of, we can all go back to keeping our fingers crossed for an Overwatch beta starting soon.