PAX East: What we can expect at Blizzard's panel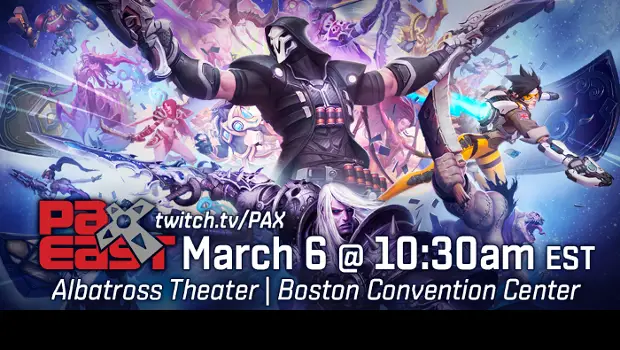 Blizzard's PAX East panel takes place today at 10:30 a.m. EST. If you're in Boston, you can view the panel in the Albatross Theater. If you're at home, the panel will be livestreamed on one of PAX's Twitch channels — so far, the channel for the Albatross Theater appears to be the PAX2 Twitch channel. That's when and where it happens — but what can we expect to see at Blizzard's panel?
First, we can be confident we won't be seeing anything for World of Warcraft, Diablo, or StarCraft. There's been no mention of that and no hype behind it. If Blizzard intended to surprise us with news for those franchises … they wouldn't want it to be that much of a surprise. Announcing a World of Warcraft expansion while no World of Warcraft fans are watching wouldn't be very useful to them.
Announcements will almost certainly be restricted to Hearthstone, Heroes of the Storm, and Overwatch. In attendance for the panel are Eric Dodds, Dustin Browder, and Jeff Kaplan, the Game Directors for their respective aforementioned games. Each are poised to reveal something new about those franchises. So far, we know the following:
Hearthstone is likely to announce a Blackrock Mountain themed adventure pack. Data to that effect was mined from a recent Hearthstone patch, this month's card back is Ragin' Ragnaros, and an adorable little elemental has appeared on the official Hearthstone website.
Based on recent Tweets from the game's official account, Overwatch will most likely unveil a new map and at least two new characters.

The first new character, based on a Tweet from February 26, is most likely a Russian boxer or weightlifter — punching enemies does seem like a more useful skill than bench-pressing them, though the two aren't necessarily mutually exclusive. The image embedded in the Tweet is an in-universe magazine cover written in Cyrillic.
The second new character, based on a Tweet from March 4, is likely to be the cowboy seen in promotional BlizzCon artwork, but was not playable at the BlizzCon demo. You can see a glimpse of him at the bottom of this post. The Tweet shows an excerpt from an editorial in an in-universe newspaper, detailing this cowboy's intervention in a ramen shop robbery. Based on that and other details in the tweet, BlizzPro speculates this cowboy might actually be Japanese — though it's possible he just happened to be in Japan, as that's the setting of an Overwatch game map.

Heroes of the Storm has been strangely silent in recent weeks — at least when it comes to PAX East. They've continued on with business as usual, releasing new skins and generally avoiding the PAX East topic other than to mention their presence. When it comes to Heroes, however, it would be a safe bet to say they're likely to announce new playable characters. We might also be reaching the point where a release date may appear.
It would be too strong to say we can expect a beta announcement from Overwatch, but it wouldn't be unreasonable, either. Last week, Blizzard held a small press event at their HQ to show off the game. For now, everyone who attended the event is under an NDA, meaning they can share nothing but the broadest strokes of their experience. We know everyone invited to the event was given a few hours of hands-on playtime. Such events are usually a precursor to a beta testing phase — or "technical alpha" as Blizzard has taken to using. At the very least, such an event means the developers are confident enough in the current state of the product that they'll let members of the media play it for an extended period of time, albeit in a controlled environment. If a beta announcement isn't made at PAX East, such an announcement is unlikely to be far away.