Heroes of the Storm preview features new skins and mounts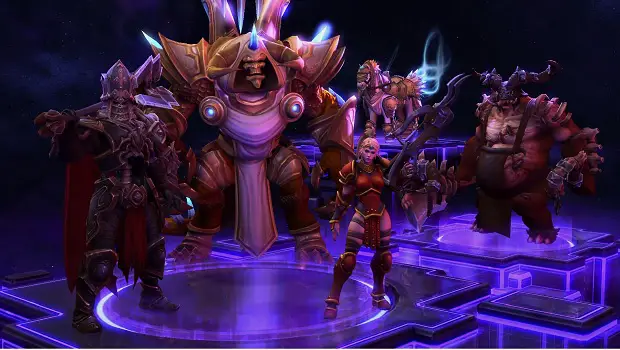 Bolvin umyol marnjar!  That's the sound of a new Vrykul Leoric skin on the horizon for Heroes of the Storm.  But Blizzard has much more in store than that — in a new video, four new purchasable skins and two new mounts get to show off their flair coming soon to the Nexus.  Included in the video are Iron Butcher, an armored-up version of the Butcher that somehow looks even more menacing; Vrykul Leoric, a skin that harkens back to the Wrath-era baddies; Archangel Diablo, a skin that not only subtly displays the Diablo 3 logo but also answers the question of what would happen if you put Diablo in Tyrael's armor; and finally, Novazon Nova, a crossbow-wielding, jungle-stalking version of Nova.  Both Archangel Diablo and Novazon Nova come with their own unique, themed abilities.
How will you ride into battle with these new skins?  If you fight for justice, on the wings of the new Tyrael's Charger mount; if you fight for evil, atop the saddle of Butcher's Battle Beast.  And if you can't make up your mind?  There's always Billie the Kid.  For the full preview of the new skins and mounts, including color variations, watch the video below:
Heroes of the Storm's Eternal Conflict theme officially kicks off June 30th with the release of The Butcher and the new Battlefield of Eternity map.  There will be a brief PTR starting June 23rd (though you may have other matters to attend to then).