WoW
Jun 18, 2015 12:03 pm CT
The legendary ring quest continues in Tanaan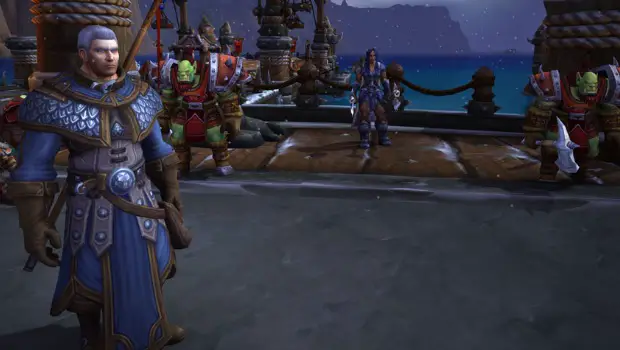 If you're trying to avoid spoilers for patch 6.2 content, then you may want to turn back now — both this post and the Blizzard post we're linking to discuss what happens in the upcoming chapter of the legendary ring quest. But for those of you who want to know everything you can about upcoming content, here's what's up.
It's no surprise that the legendary quest chain continues in Tanaan Jungle with Chapter IV: Darkness Incarnate. As Gul'dan has taken over the remains of the Iron Horde it is — unsurprisingly — up to you to sort this out by heading into Tanaan Jungle. Here's the step-by-step (though head to Wowhead for a comprehensive guide):
Build a shipyard in your garrison — which, hey, you were going to do anyway, right?
Upgrade your shipyard to level 2, which will cost you 1,000 gold, 1,000 apexis crystals, and require you to have completed 15 naval missions.
Get a draenic sea chart by completing a set of naval missions.
In the requisite grind of the chapter, you'll need to collect 33 Tomes of Chaos from Hellfire Citadel. Why not 32? Why not 34? We've decided it's just better not to ask questions.
You'll have to burn the tomes, but not everyone agrees that's the best course of action — you'll wind up fighting Cordana to progress.
You're almost done! Alliance will talk to Yrel to receive K'ara's blessing while Horde characters talk to Drek'thar to receive a blessing of the elements.
Now you'll receive an upgraded ring (which starts at ilvl 735), an achievement for Chapter IV, and a shiny new monument for your garrison. Ding and grats!
The ring you received has the group proc — when one person activates their ring, it activates a group-wide proc — that's had us concerned. After all, coordinating a group to use their rings at the right times and not messing up the entire group by using their rings at the wrong times could prove problematic. However, Blizzard seems set on this design choice, as explained by Watcher:
First off, why this wacky raidwide effect? Why not a traditional legendary that is purely individual? The idea's origins lie in what this particular legendary is: a ring. It's not a weapon designed to strike foes, or a shield to protect you from harm. And what is the nature of a ring? Whether we're talking about seven rings for the Dwarf-lords in their halls of stone, about Captain Planet, or about common social covenants in our own societies, rings tend to be paired with counterparts, and to have their meaning derived from the connections entailed therein. A lot of fluff, perhaps, but that's what got us thinking along the lines of a group effect rather than a personal one. This certainly isn't a template for all future legendaries, but we find it very fitting for this particular one.
As to how this peculiar ring proc will play out in game, we'll have to watch to find out.