Cadistra brings Hellfire Citadel bosses to life in new icon set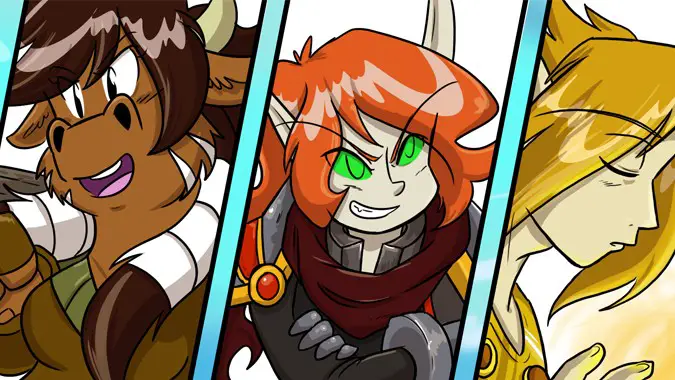 We've been fans of Kelly Aarons (whom you may also know as Cadistra) for a long time — even before her WoW, Eh? comic made a splash in the community. But with WoW, Eh?'s lack of recent updates, we've been wondering just what Kelly was up to. We knew she was doing BlizzCon badge commissions, but were we going to see her return to comics? When we found out Kelly was doing Hellfire Citadel (and other Warlords raids) boss art icons for Ask Mr. Robot, it seemed like a good chance to catch up with her and, amongst other things, ask about the future of WoW, Eh?.
Check out our interview below or catch up with Kelly on Twitter, Twitch, Tumblr, or Badge Babes. All images below are courtesy of Kelly and Ask Mr. Robot — you can see Kelly's icons in action over on Ask Mr. Robot now.
Q: What Blizzard games do you play, and as what?
I pretty much just play WoW — Cadistra, the lady tauren (feral) druid, though I'm leveling some alts here and there. The incredible Noxychu promised to teach me how to not suck at Heroes (I have the competitive spirit of a ham sandwich), and I like Hearthstone, but when it came out I was really getting into Magic the Gathering, so….I figured I could only pick one. Now I feel like I'm so behind the HS curve that I'll never catch up, but I really should start playing again.
Q: How long have you been drawing? Do you have a background in the arts?
Hooboy…I've been drawing as far back as I could remember. I've been drawing nonstop ever since! I went into a "technical college" right out of high school, hated it, dropped out, then went to Vancouver Film School and ended up graduating top of my class in Classical Animation (CA63 represent!). I've taken a few courses here and there, but otherwise, just practice practice practice!
…Though I wish I was craftier. I can cross-stitch. That's about it. I tried knitting one time and I nearly took out an eye.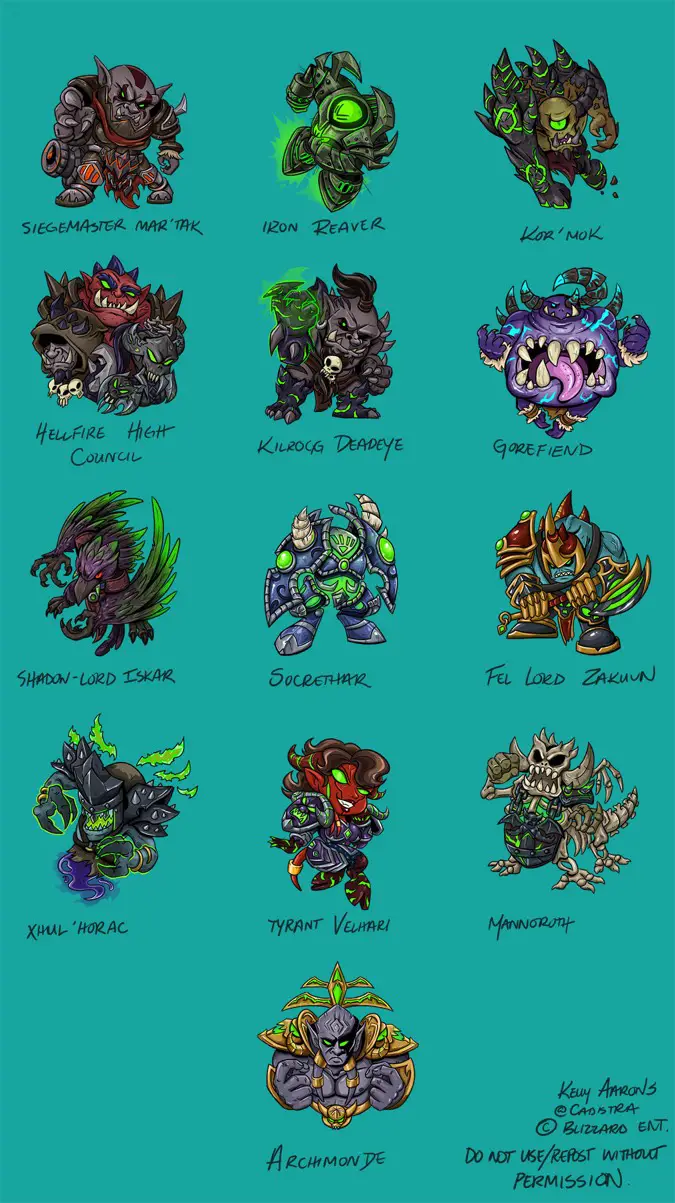 Q: You've done boss icon art for Ask Mr. Robot, including Hellfire Citadel bosses — is it challenging to make images for characters that aren't in the game yet?
Not especially, no! Granted, if it wasn't for the Wowhead 3D model viewer I'd be up crap creek without a paddle, but…it is there, and I can pretty much get all the information I need out of it! AMR is really good about giving clear feedback, and I've been encouraged to even sometimes watch PTR strat videos to see how certain bosses move, or if there are any good poses that stand out.
The rest of the bosses are otherwise pretty easy to read — they're either lore figureheads or a bigger version of an enemy in-game, and then I just go from there (like Oregorger — I took a shot at what his personality was like…which is to say there is none).
Q: Could you give us a step-by-step on what's involved in doing one of these pieces? How long do they typically take?
For something like a set of these icons, the first thing I do is head to Wowhead and look at the raid overview. They do a fantastic job of organizing all bosses by their respective wings and a general order (I like to keep my PSD organized), and from there I just take a look at every boss, one by one, in the model viewer. Then, I start doing really rough, messy sketches – just to get a general pose, line of action, blocking out shapes, and that sort of thing. I turn down the opacity, toss a new layer on top, then start to work out the form and some bigger details. I do it for all the bosses, then send it off to Ask Mr. Robot (no sense in putting in lots of detail when revisions could be coming, eh?).
If there's any feedback, I apply it, send it back (just a JPEG), and once I get the green light, I start the ink and paint process. I ink each boss in just black with the default Photoshop CS6 hard brush (with Shape Dynamics turned on so I get a point), which takes about an hour — they're small, but they're very hi-res, so I have to make sure they look good both big and small! Then I make a layer underneath the inks and just paint everything on there. I'm more of a "cel-shader" painter, as opposed to someone who puts in a lot of form and gradient, like Noxychu or Quel'Fabulous. Colouring, on average, takes about 1.5-2 hours, with any extra effects included (fire, glows, etc).
Finally, I copy the whole layer group, and turn it into a Smart Object. That way, it's been vectorized, and it's in one solid piece, so no one has to fight with any layers and the like.
Q: Do you have a favorite of the pieces you've made?
I actually really liked the Iron Maidens from the Blackrock Foundry set — they're so cute and fierce! I also got a lot of compliments on Oregorger, of all people…something about him, I guess.
For this one, I like how both Tyrant Velhari and Xhul'horac (what a mouthful) turned out. The only problem with Burning Legion bosses is they're so…bland, personality-wise. All of them are 110% kill-on-sight demons! Muah ha ha! At least Velhari looks like she enjoys her job, y'know?
Q: What are you working on right now (or next)?
BlizzCon badges, print ideas, a backstock of comic pages, a new comic IP (unrelated to WoW), a Patreon, and perhaps a major geographic relocation..?
Q: And I'd be remiss if I didn't ask whether WoW, Eh? was going to be making a comeback… so, do you have any plans to return to WoW, Eh? or doing any other comic work in the future?
See above! Absolutely yes WoW, Eh? will be back! I felt (well…still feel) like total trash for letting it fall by the wayside. My last job was a grueling 60+ hour workweek (with commute and without overtime; clocked to about 70+ if I did OT) so it suffered really badly. Now that I'm unemployed, I sadly need to focus on keeping a roof over my head first, but WoW, Eh? isn't dead!
Thank you all for believing in me!
As for other comic work, I'd like to go back to running two comics at a time again. I'm (slowly) developing a new story that I'd like to tell. It's inspired more by a mix of things like DnD/Pathfinder, WoW, and maybe some spooky things, but yeah! Also, I'd love to try an anthology submission every now and then.
That's all for BlizzCrafts this week — but check back next week for another selection of cool Blizzard-themed crafts! Have Blizzard arts and crafts of your own you'd like to see on Blizzard Watch? Send them our way! Submissions and suggestions should be sent to liz at blizzardwatch dot com.