WoW
Jun 23, 2015 12:00 pm CT
Getting started with the garrison shipyard and finding oil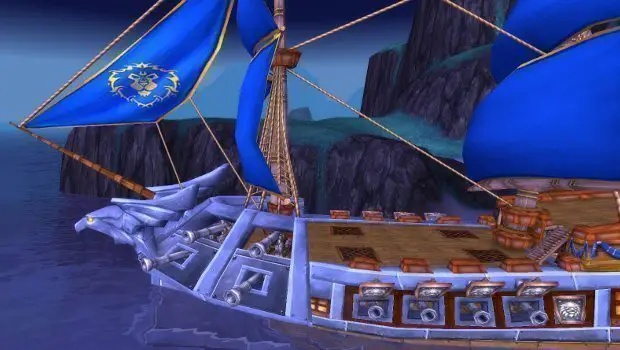 One of patch 6.2's major new features is a shipyard for your garrison and is required to get to Tanaan Jungle. It will allow you to create ships and send them on naval missions. These naval missions are essentially the new daily activity for you to do in your garrison.
Build it
You'll get to build the shipyard automatically via the War Council garrison campaign and its follow up quests, which you'll get automatically in your garrison when logging into patch 6.2. In order to build the shipyard you need to have a level three garrison. There are no ways around this.
Costs of building the shipyard are as follows:
Level 1 – 150 Garrison Resources, 150 gold
Level 2 – 1,000 Garrison Resources, 1,000 gold
Level 3 – 2,500 Garrison Resources, 2,500 gold
The level two shipyard requires finishing the quest A True Naval Commander and completing 15 naval missions. The level three shipyard requires the quest Naval Domination to be complete as well as 25 naval treasure missions.
You'll have five types of ships: Battleship, Carrier, Destroyer, Submarine, and Transport. Each ship has different crew, just like followers have different traits in normal garrison missions. Ships also have equipment slots which are upgraded as the ship's quality increases (rare/blue quality ships get one equipment slot, epic/purple quality ships get two). Ships gain experience and quality just like garrison followers do — by running naval missions– but they do not have item levels.
Finding oil
To do naval missions and build ships you'll need oil. You'll get some oil in the first few quests, and beyond that you'll need to obtain the oil by:
Building an oil rig in Tanaan Jungle
Running Tanaan Jungle dailies
Killing Tanaan Jungle rare elites and completing map objectives
Running garrison missions
Rewards
Besides just the reward of running a shipyard, you'll have chances at the following items from naval missions:
You'll also need to complete naval missions for your legendary ring.
Beyond the basics outlined here, there are combinations of ships and equipment that will help (or hinder) your naval missions. Take a stab at different combinations and pay attention to what mission you're running for the most effective grouping.