WoW
Jun 26, 2015 1:00 pm CT
Patch 6.2 guide to ship equipment for naval missions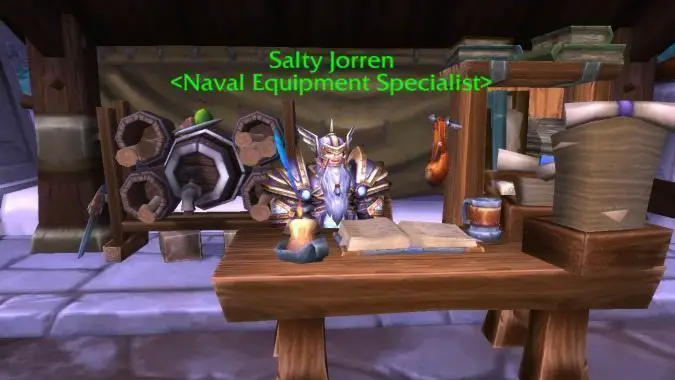 So you've ran the introduction quest line to patch 6.2, built your shipyard, collected oil and sent a few boats to their watery doom when you realized they don't have the right equipment to counter the threats on the map. You run down the docks to the equipment vendor, cash in hand, and discover that each piece of ship gear needs a blueprint first. And those blueprints are scattered in different places. All over the Tanaan Jungle. Fortunately, we've rounded up the equipment blueprint locations for you in one handy guide.
First, the big picture about equipment slots on ships. When a ship is built it automatically comes equipped with four slots for bonuses. The ship counter slot  is automatically filled to counter another ship type and is based on a rock/paper/scissors system (Battleship > Destroyer > Submarine > Carrier > Battleship) except for the Transport ship which counters a Land Objective threat.
Each ship also has a second slot which is randomly assigned a crew that brings with it their own unique bonuses. These can't be changed, but two equipment slots can be unlocked (one when the ship is leveled to Rare quality and the second at Epic quality). These slots can be filled with specific counters you can buy from the Naval Equipment Specialist dock merchant for Garrison resources once you've found the blueprint for each. Here's where you can find them all.
Found on Elite Rare Mobs
These mobs spawn in Tanaan Jungle. You can find them by their coordinates below (using the "/way X, X" command where X, X are the coordinates), by looking at your in-game mini-map for skull icons or by using the HandyNotes Addon with the DraenorTreasure extension. Bonus: Killing these rares will also count towards the Jungle Hunter and Jungle Stalker achievements.
Equipment Blueprint: Bilge Pump
Equipment Blueprint: Felsmoke Launchers
Equipment Blueprint: Ghostly Spyglass
Equipment Blueprint: High Intensity Fog Lights
Equipment Blueprint: Ice Cutter
Equipment Blueprint: Trained Shark Tank
Equipment Blueprint: True Iron Rudder
Rewarded in quest chain
Equipment Blueprint: Blast Furnace
Reputation
These blueprints can be bought from your Tanaan outpost faction vendor. They are Shadow Hunter Denjai of the Vol'jin's Headhunters faction for the Horde and Vindicator Krethos of the Hand of the Prophet faction.
Equipment Blueprint: Tuskarr Fishing Net
Equipment Blueprint: Unsinkable
Raid drops
Equipment Blueprint: Gyroscopic Internal Stabilizer
Collecting and turning in all these blueprints will also earn you progress on the Naval Mechanics achievement. As you can see from that achievement tooltip there are additional blueprints listed that we haven't covered here. So far they haven't been found in the game and possibly haven't been patched in yet. We'll update the guide when we learn more.