Smashzord's captures Blizzard's Heroes in spray art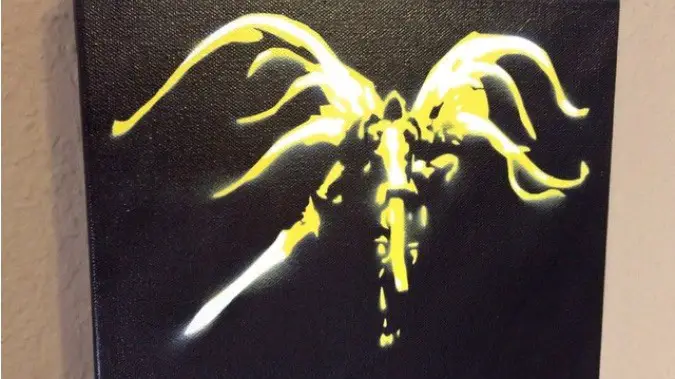 We first caught notice of Smashzord (otherwise known as Smashzord#1351 or Patrick) on Reddit, where he was posting spray art renditions of Heroes of the Storm characters, including (so far) Diablo, Tyrael, and Valla. Though we've seen plenty of spray art, this was the first Blizzard-themed spray art we'd run into, so we reached out to ask him how and why these pieces came to life. It's no surprise that he's into Heroes, as part of the crew on the Lords of the Storm podcast — and they're running a Heroes of the Storm tournament this weekend (you can catch it on Twitch this Saturday at 1PM Central) with some of Smashzord's art as a prize.
Whether you're interested in the art or just the heroes, check our full interview with Smashzord after the break.
What Blizzard games do you play, and as what?
I play Heroes of the Storm, Diablo, and World of Warcraft. I've been playing Blizzard games since I started with WoW in 2004.
Do you have a background in the arts? Whether you do or don't, where'd you learn how to do spray art like this?
I did take a few art classes in high school and my brother was always heavily involved in art, but I didn't start creating my own art for fun until about a year ago.
I basically just taught myself. I was inspired by street artists like Banksy, Blek Le rat, C215, and Invader and wanted to start creating my own similar style of art.
What inspired you to do these Heroes of the Storm pieces?
In addition to the artists I mentioned above, I wanted to incorporate something that personally meant a lot to me, so I decided to go with the video games that I've played and enjoyed for a long time. Once a few of my friends saw my art, people started requesting for me to do pieces for them as well based on these same themes, and it just caught on from there. Social media can be a powerful tool for promotion!
Could you give us a step-by-step on what's involved in making one of your pieces? How long do they typically take?
First, I create an image. It might be a hand-drawn image or pre-created image (photo).
Next, I use a computer program like Gimp or Photoshop to create a vector image, which brings out the contrast in the image and starts to give the image that "stencil" feel.
After some editing and fine-tuning, I print off this image to cut by hand. If I want the piece to have multiple layers for a shading effect (like with the Diablo painting) I will repeat this process multiple times for different layers.
After the image is printed, I cut the stencils I've created by hand with an Xacto knife.
Then, I use double-sided tape to get the stencil to properly stay put my painted canvas to avoid moving while spraying or any unwanted bleed effects from the spray.
Finally, I hang up the painting on a well-lit wall in my house and sit and observe it for a few minutes just to be 100% sure that I'm satisfied with it.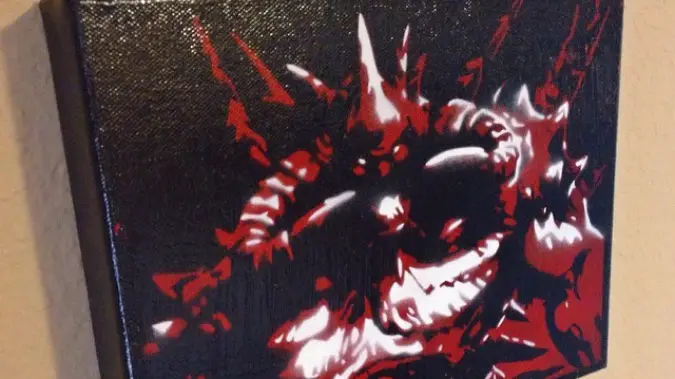 What's been the most challenging part about making these?
While cutting the stencils by hand is tedious, I would say the hardest part is making sure the stencil itself is not compromised while spraying. Sometimes, there will be very thin pieces of paper that make up the stencil which can be very hard to get the double sided tape to stick on. I try to cut a piece of double sided tape for every single nook and cranny of the stencil. If I don't, these pieces tend to move while spraying and it messes up the look of the final product.
Have you made any other Blizzard-centric art?
For now, I've only created my favorite heroes from the Diablo/Warcraft universe in addition to the Horde symbol (For the Horde!) but I definitely plan to expand on this to the StarCraft and eventually Overwatch themes as well.
Do you have a favorite of the pieces you've made?
I would probably say… Diablo. I feel like that painting came out exactly how I envisioned it in my mind which is always a great feeling.
What are you working on right now (or next)?
I'm working on Rehgar and Sylvanas paintings as prizes for an upcoming Heroes of the Storm tournament that I'm involved in called Lords of the Lane 2, which is streaming on Twitch tomorrow (6/27) at 1PM CST. It's tied to our HoTS podcast – Lords of the Storm (check it out on iTunes!). I'm also working on a giant 3' x 5' painting inspired by the game Mass Effect for a good friend of mine and a painting of Cloud from Final Fantasy VII.
That's all for BlizzCrafts today — but check back next week for another selection of cool Blizzard-themed crafts! Have Blizzard arts and crafts of your own you'd like to see on Blizzard Watch? Send them our way! Submissions and suggestions should be sent to liz at blizzardwatch dot com.