Breakfast Topic: Those epic cinematic moments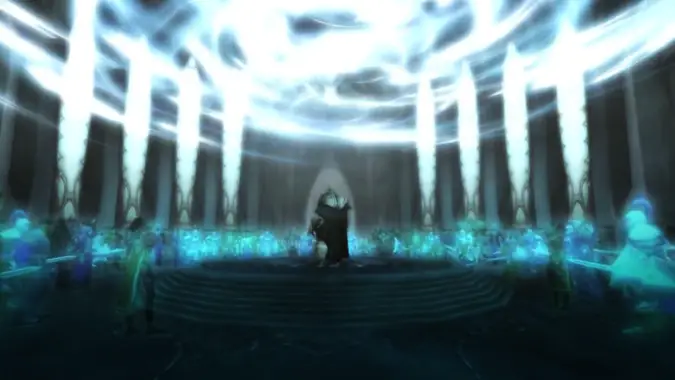 With the Warcraft movie trailer set to debut this weekend, I'm reminded of all the epic moments in Warcraft cinematics. Two in-game cinematics in particular happen to hold a special place in my heart, featuring those moments that give you chills when you hear them.
My all-time favorite is patch 3.3, Fall of the Lich King. The entire expansion had been building up to this point. We had seen Arthas every turn of the way, taunting us, letting us know that he could swat us like gnats yet had chosen not to. Finally, we were ready to make our stand and dispense justice. Deep inside Icecrown Citadel, Arthas was seemingly haunted by all the souls he had taken. Terenas Menethil recounted Arthas' many sins as the music swelled and the souls multiplied, closing in on Arthas. All those he had killed and desecrated in his pursuit of power. He reached out for Frostmourne…and the souls vanished, merely a figment of his imagination, or perhaps a tinge of guilt. He had one last taunt for us: "Then let them come, Frostmourne hungers." Chills. The ending was so great and made me even more excited to finally delve into Icecrown Citadel and take care of him once and for all.
Later on came Cataclysm and with it the rise of trolls. I played Horde at the time, so I had a fondness for Vol'jin when patch 4.1, Rise of the Zandalari, appeared. Trolls were dancing and gloating with their new-found power, planning their takeover. The camera panned to a solitary Vol'jin, quietly walking away, rejecting all that the Zandalari were offering. When the trolls questioned why Vol'jin would reject his own people, it struck a chord in me how he answered. "The Horde is my people. If it be war you bring, then I stand against you." Vol'jin had our back against this new threat, no matter what racial ties he had previously had. There was a bond within the Horde stronger than race. Unfortunately, the Horde did not stay that way, but that's for another cinematic.
I know I'm not alone in loving these cinematics, but there are also so many other cool moments out there! What are your favorite moments?