Heroes of the Storm Team and Hero League MMR changes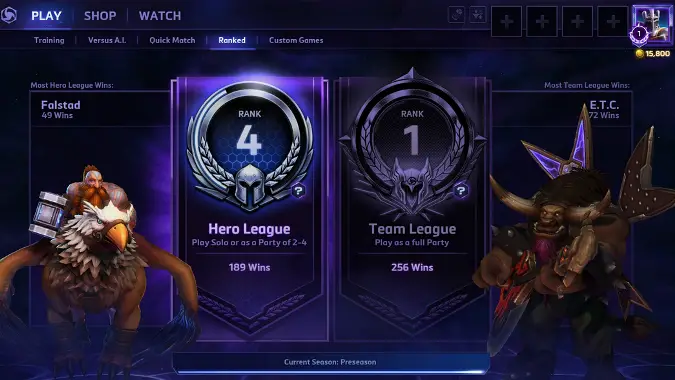 The new information coming from Gamescom is still rolling in. In this morning's discussion of Heroes of the Storm, among other new developments, game designers Dustin Browder and Kaeo Milker discussed big changes coming to Team League.
As it stands now, more progressed players have their choice of either queuing up for Hero League in a group of one to five players, or forming a full five-man team with a specific roster and an associated gold cost in Team League. With the revamp, Hero and Team Leagues are now queued from a single menu, 'Ranked'. If you're queuing with four or fewer people on your team, you join the queue for Hero League. If you have a full group, you are automatically queued for Team League. Each player is still given separate rankings for each flavor of ranked play. This is to ensure fair play in both leagues, though Browder noted that the occurrences of a full five man team being matched up against a group of single players in the current Hero League is relatively rare.
Also ensuring fair play is a new way of estimating a player's skill. Commonly referred to as MMR, this is an invisible metric which will have you facing opponents of a similar skill level over time. In the future you'll be required to run through a number of placement matches against others who are doing the same to better assess your skill before you're given an actual ranking. There was a brief discussion of some balancing changes coming to current Rank 1, and a Grandmaster ranking at the very top for the crème de la crème.
Because there are so many changes coming, there will be a reset shortly for all Hero and Team League ranks, but we're going to remain in preseason for a little while longer. Browder noted on the livestream that they wanted to get all these issues nailed down before the first competitive season begins. He was far too coy to give away an actual date for when that may begin, so stay tuned. For more information, you can check out the Heroes community weblog or check out the discussion which begins at roughly 53 minutes into the official Blizzard Gamescom livestream archive.