Lucio drops the beat in new Overwatch gameplay video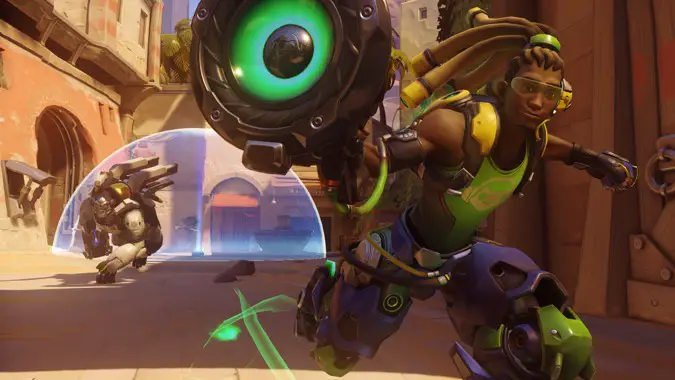 The Overwatch team released a new video today, showing off two new things announced at Gamescom over the weekend. The intent of the video is to showcase Lucio, the Brazilian EDM phenom hero. The match used to showcase him is played on the new South African map announced, Numbani, giving us an excellent preview of that as well.
One of the coolest things about Lucio during gameplay is that he swaps between two songs through the video. The song to the left, represented in yellow, is his healing song, while the one on the right in green is his damage song. The songs actually swap, and the music plays, with the damaging song being slightly more uptempo than the healing one. His Drop The Beat ultimate changes the music as well, but it's difficult to tell its impact on the fight in this particular video.
Because this is from Lucio's point of view it's unclear whether this will be a red flag to the opponent that Lucio is nearby, which may be a concern. Between all the greens, yellows and the music, it seems like either something is tipping off the opposition, though, because in this particular preview Lucio dies pretty frequently. Of course, he frequently engages when he's outnumbered, so maybe we need to wait just a bit longer to see what he can really do.
Personally, I found the Numbani map a lot more compelling than Lucio in this particular playthrough.