Papercraft Sylvanas is as impressive (and threatening) as she is in-game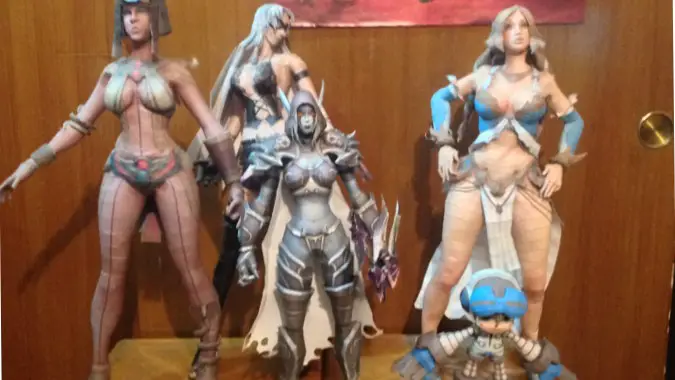 We initially ran into papercrafter Eduardo — whom you can find on Twitter, DeviantArt, and YouTube —  when he posted a stunning papercraft Sylvanas. Though he's just starting to do Blizzard-themed papercrafts, he's been making paper creations from other media for years — and, since we spoke to him, he's added an equally impressive papercraft Nova to his repertoire.
We caught up with him to talk about how and why he makes his paper creations.
What Blizzard games do you play, and as what?
I play Hearthstone mainly as a Warlock, I like using a lot of demons and I'm addicted to using Life Tap. I've played StarCraft since the 90's, and I have spent hundreds of hours on StarCraft 2 playing as Terran. I have an awesome group of friends that are teaching me how to play Heroes of the Storm, where I like to play melee tanky warriors like Diablo. I still kinda suck and they have to carry me through the matches. I have played every Warcraft RTS but I've only had an active subscription to WoW for one month many years ago.
How did you get started making papercrafts? How long have you been making them?
Aside from video games, I've always liked building stuff with my hands. Since I was a little kid I had an interest in jigsaw puzzles, LEGO, origami, scale models, you name it. I got into papercraft in 2009 and I've never stopped since. I specialize in making video game character models — I see my crafts as a tribute to those characters, they are physical representations of beings that only exist in virtual worlds, and I build them myself, which is very cool.
I got the templates for my first models from a site called Papercraft Museum. They have a lot of models for different levels of expertise and they even have tutorials for beginers. I started with simple models of around ten pieces and I quickly moved on to more complex models with hundreds of pieces.
I have knowledge in 3D modeling and programming and taught myself how to make my own templates three years ago. If a character inspires me I'll most likely end up making a papercraft model of him/her. I've been recognized for my craft a few times, I've won art contests, praise from developers, and I've been featured in some articles in video game news sites. I like the attention to be honest. My goal as a papercraft artist is to get better with every new model, you know, to be the very best, like no one ever was.
What inspired you to make Warcraft-themed pieces in paper?
I'm a lore nerd and Blizzard sure knows how to create compelling characters and fascinating worlds. As I said, I don't really play WoW now but I've read some of the novels and I watch a lot of lore videos on YouTube. Sylvanas is one of my favorite Blizzard characters since Warcraft 3; I think she is one of the most tragic characters in that universe and yet she overcomes her struggles and kicks so much ass.
Blizzard has a huge fandom and there are a lot of very talented papercaft artists, I have seen awesome models from Warcraft, Diablo, and StarCraft. There is some serious competition in this community and that's also very inspiring.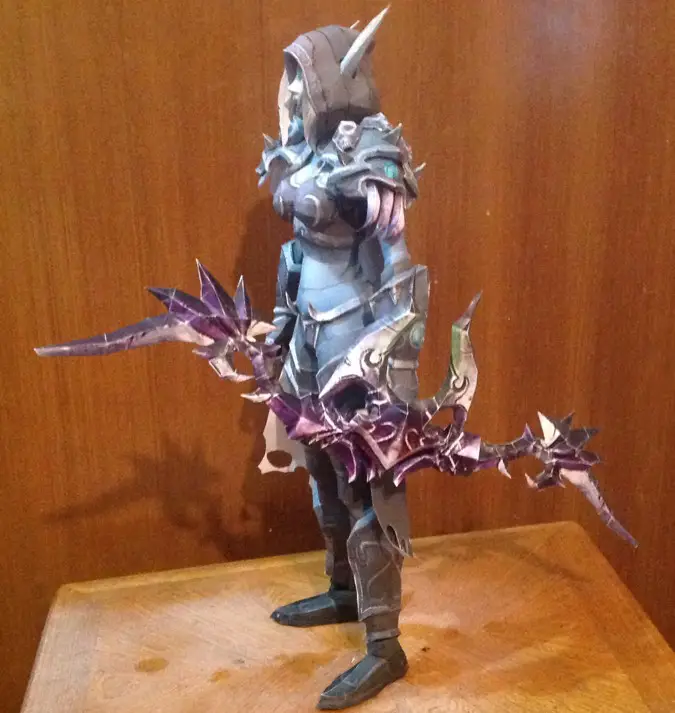 Have you done other Warcraft (or Blizzard) pieces besides Sylvanas? Do you have a favorite piece?
Sylvanas is my debut on making Blizzard characters. I know that this is a Blizzard-centric website but my favorite right now is the latest model  that I made of Beck, the main character from Mighty No. 9, an upcoming game by Keiji Inafune, the creator of Megaman.
Could you give us a step-by-step on what went into creating Sylvanas? How long did it take to make?
I don't want to get too technical. For Sylvanas I used data-mining tools to obtain the 3D model and the textures from the WoW game client. Then I exported it to an animation software to change the pose, remove backfacing, and modify the geometry a little. When the model was ready, I exported it to a software called Pepakura Designer, which is a special tool for unfolding 3D models into printable templates. I printed that template and proceeded to cut, fold, and glue each piece until it was ready. The whole process took me about 10 days — yes I have a lot of patience.
What's the most challenging part of making papercraft characters?
Faces! most of the time the faces of my papercraft characters end up being made of a lot of tiny pieces that are difficult to assemble. Hands and fingers can be a nightmare as well. Sylvanas wasn't very difficult — in fact she was a breeze to make —but I had to make the bow twice because I made a lot of mistakes on my first attempt.
Making papercraft templates to share with other people is also very difficult, the patterns have to be designed in sensical and intuitive for other people to make. I have shared a couple of my templates publicly they are supposed to be "beginner" level models, I received some backlash initially because they were too difficult to make, but with feedback and a lot of testing I managed to design papercraft template that most people can make and have fun doing it.
Do you use a special kind of paper to make these?
The type of paper that I use is 220g opaline which is about three times thicker than the normal office paper. They models are still kinda fragile and they have to be handled and cleaned with care — many fingers have been lost to curious guests and clumsy little cousins.
What are you working on next?
I learned how to datamine Heroes of the Storm files a few months ago, that game is a new frontier for papercraft. As of today I haven't seen any papercraft models of that game yet (I just checked DeviantArt and Google). Those characters will not be easy to make on papercraft, as they are very detailed and with way more polygons than the WoW characters. I'm up for the challenge, I am currently working on a model of Nova from that game, expect it soon™ and when it's ready™.  [Note: Since we spoke to Eduardo, he's completed his Nova model, which you can see in the video above.]
That's all for BlizzCrafts today — but check back next week for another selection of cool Blizzard-themed crafts! Have Blizzard arts and crafts of your own you'd like to see on Blizzard Watch? Send them our way! Submissions and suggestions should be sent to liz at blizzardwatch dot com.