Lt. Morales reports for duty in Heroes ability preview video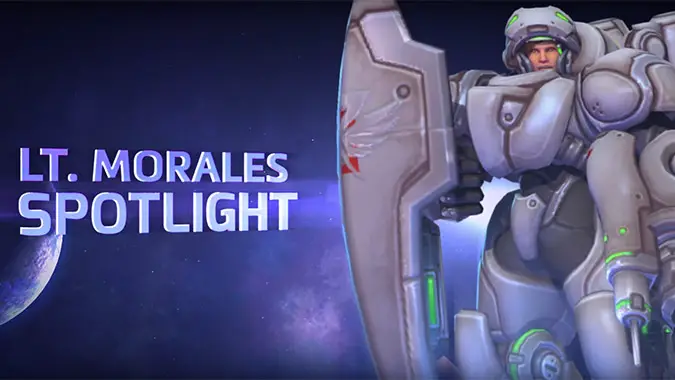 First announced at Gamescom, Lt. Morales is the newest Support class about to enter the Nexus. The Heroes of the Storm team recently released a brand new video showcasing Lt. Morales' abilities. She is the second support hero from the StarCraft universe to enter the game (after Tassadar). The gameplay video demonstrates her kit and how she can affect the flow of team battles.
Her abilities are focused around healing, damage mitigation, and movement. Caduceus Reactor (her trait), lets her regenerate 3 percent of her max health every second after going 4 seconds without taking any damage. This provides her with incredible longevity in the field meaning she can help stay in lane longer without needing to use a Moonwell or using the Hearthstone to regenerate health and mana as often.
Healing Beam (Q) is a simple ability that heals one ally every half a second as long as they're within range of you. More importantly, pressing Q again allows you to choose your target again or you can simply cancel the ability by activating Caduceus Reactor. The best part? There is no cooldown. With Safeguard (W), Lt. Morales can help slow down incoming damage on a team mate for three seconds. The skillshot Displacement Grenade (E) will fire out an explosive that detonates after it comes in contact with an opponent which will deal damage and knock nearby enemies backwards.
The two heroic abilities in Lt. Morales arsenal are more offensively oriented. Stim Drone (R) increases one ally's attack speed by 75% and movement speed by 25% for ten seconds. I'm already looking for the nearest Illidan to pair it with. For a more team-focused ability, the Medivac Dropship (R) causes the player to enter a dropship and then travel to the chosen area after four seconds. It can be used to get out of a potentially dangerous situation quickly or to traverse the map and engage an objective before the enemy realizes where you are. Be careful though because the dropship is vulnerable during the four seconds and can be destroyed.
The video ends with numerous tips on how to play Lt. Morales effectively. Watch for Lt. Morales to hit the Public Test Realm very soon and the Live servers shortly thereafter.