Breakfast Topic: Ghosts of Ashenvale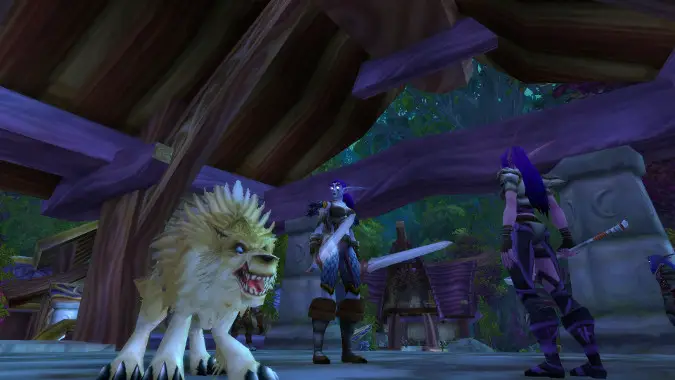 I'm leveling a baby warrior through Ashenvale right now and I have to say, purely as an experience, I don't think Cataclysm's 1 to 60 content revamp gets enough credit. Coming up through Darkshore was agonizing, but it can't be denied that it was effective — by the time I was done with the zone I was very motivated to go stomp on Horde butt in Ashenvale.
And once I got to Ashenvale there were a lot of reasons to do exactly that.
This isn't a Alliance good/Horde bad argument. It's more just an acknowledgement of how effective the zone design is at telling specific stories, stories that are designed to slant your perspective one way or another. Ashenvale doesn't just push the anti-Horde button for the young Night Elf, it also gives you a sense of the breadth and depth of the zone as a whole. You fight demons, explore the elements gone mad, have an encounter with Elune's grace, save a child, and experience the Furbolg's culture. A lot of players, myself included, felt like Ashenvale was too changed in Cataclysm with the Horde overwhelming Silverwind Refuge, and I'm still convinced the zone should end with some phasing and a cutscene of the Horde getting pushed out of Silverwind, but it's hard to deny that by the end of the zone I'm eager to head south and push back.
There are problems — frankly, the decision to tie all the 1 to 60 zones so strongly to the Cataclysm storyline ends up feeling strange now that we're two expansions away from Deathwing. With Legion coming it'll seem even weirder to fight various menaces like the Naga, the Twilight's Hammer, and Elementals gone mad when we already know how that all ends. There's plenty in Ashenvale that has nothing to do with the destruction Deathwing caused, but the stuff that's tied to him feels out of date already.
So, what 1 to 60 zone is your favorite and why? Do we need another revamp, or is that an idea that proved itself ultimately unnecessary for WoW?