Artanis Heroes of the Storm gameplay preview video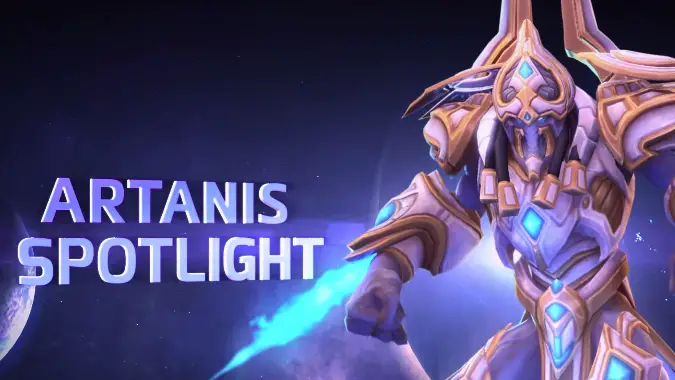 The Heroes of the Storm team released a new video today featuring the moves of Artanis, the newest Warrior hero to enter the Nexus. Hailing from Starcraft, Artanis is heavy on dive moves and control, making him a deadly partner for the current Warrior-heavy competitive meta. He is available today for those who pre-ordered Starcraft 2: Legacy Of The Void. Those who haven't will just have to be satisfied with this video for now–he becomes available to purchase for everyone next week.
The most unique ability in Artanis' toolkit is Phase Prism, which travels in a straight line and forces an opposing Hero to trade places with Artanis. This, like Diablo's Overpower, is made to punish Heroes who overextend near structures, especially gates. It can also turn the tide of battle by allowing Artanis to port an opposing Hero into the midst of his team. His Twin Blades ability is also designed to allow Artanis to dive deep as a battle initiator, while his trait, Shield Overload, will make it so that he can do so relatively unscathed.
Based on this preview, I'd say he's likely to play well with some of the warriors based more on control, like Johanna. He'll be able to dive in and pull people back into his waiting team while a tankier warrior protects the squishier damage dealers. A second warrior would also help to keep the opposing team from rescuing their buddy Artanis pulled out of position.