BlizzCon 2015: Class stacking buffs removed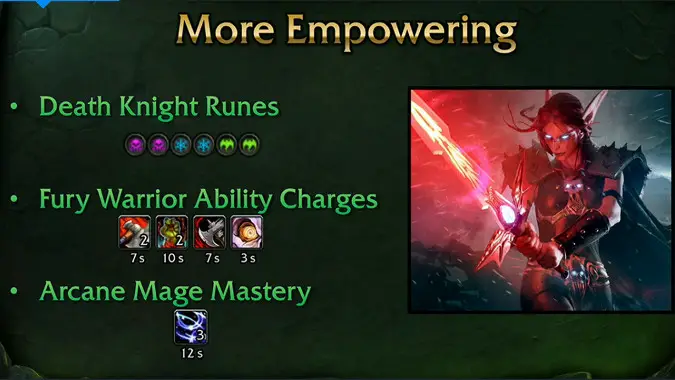 One of the changes to class design revealed during the Legion systems panel is to stacking buffs and complicated resource systems.
At the panel Kris Zierhut talked about how the core philosophy of the class design going into Legion is all about empowering the player — not being overpowered, but feeling in control of your character and his or her abilities. And one of the elements that's been revised or removed for many class is anything that takes control of play away from you.
The examples given were Death Knight runes, Fury Warrior stacking ability charges, and the Arcane Mage mastery. In each case, Zierhut said, these elements of gameplay take play away from you. Rather than using an ability, you sit around waiting to get your various kind of runes, or for your stacks on Meat Cleaver to be up to full before you hit Raging Blow after Whirlwind. All of those abilities are simplified so that they work, and stacking buffs or debuffs were either removed or changed into a resource as in the case of Arcane Mages.
Furthermore the Arcane Mage had a very strong class fantasy but didn't feel powerful the way it should be, so the way it interacted with Mana contradicted the class feel. A new mastery, Savant, gives the player more mana and more power. No more "Oops, I spent too much mana, now I'm boned" for Arcane Mages.
It's all part of putting control of your playstyle in your hands. We'll see how it plays out, I'm looking forward to trying it.