BlizzCon 2015: New crafting UI and big profession changes in Legion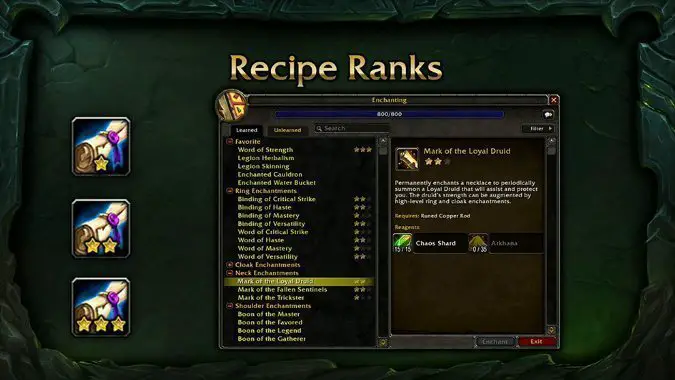 At today's WoW systems panel, developers unleashed a hailstorm of big reveals. Among them, Blizzard showed off a new crafting interface. It's much wider and has side-by-side panels, with recipes on one side and descriptions on the other.
You will be able to "level up" your recipes with up to three ranks, shown as stars in the UI. Each rank requires fewer materials and has a shorter cooldown. It's not clear yet how the ranks will be earned, but Blizzard also talked about profession-based quests in the panel. We can infer that questing may be involved in ranking up your recipes.
Similar to the mount collection interface, you can mark your favorite recipes so they will appear at the top of the list. Collector types will be happy to hear that unknown recipes will appear in the panel so you can see exactly what your character hasn't learned yet.
Other big profession-related reveals:
Gatherers will no longer have to compete for ore and herb nodes — they will be shared like the nodes in Guild Wars 2.
Crafters will be able to "disenchant" unwanted items into Obliterum at a special forge in Dalaran. Obliterum can then be used to power up existing items from that profession.
Major glyphs are gone. Scribes will be able to make runes that provide temporary buffs, such as increasing your damage versus a specific boss for one week.
Minor glyphs will remain and they won't be limited to three. You can glyph as many spells as you prefer.
Archaeology is getting a "months long" quest line in Legion and fishing will also have a more adventurous component.
Cooks will get a mouth-watering bacon recipe that extends other food buffs by up to 6 hours.
First aid will get "lots of exciting new bandage-related content!"
In general, Blizzard wants crafted items to feel more special. As an example, they showed engineering goggles made of gun parts that can shoot enemies and a necklace that provides a 15% run speed boost when the wearer is Enraged. Also of note is the enchanting recipe that they showed off, Mark of the Loyal Druid. This necklace enchantment "periodically summons a Loyal Druid that will assist and protect you." The druid's power can also be "augmented by high-level cloak and ring enchantments." Is this an enchantment "set"? We certainly haven't seen a craftable enchantment like that one before, and it makes me wonder what else Blizzard has up their sleeve for professions in Legion.