Matt Fossen brings WoW characters to life with screenshot art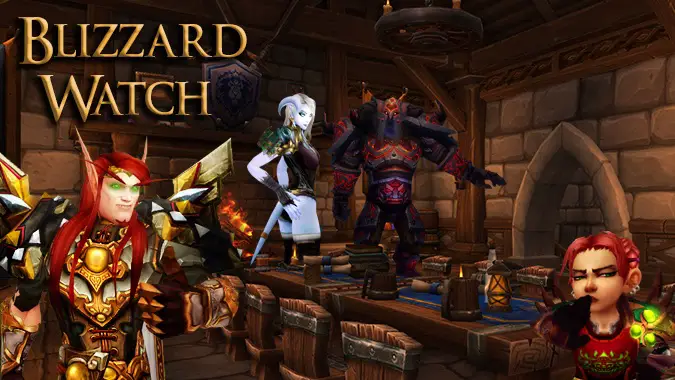 For all that I admire the many talented artists in the Blizzard fan community, I always find myself tremendously impressed by art based on in-game assets — like the header image above, showing some of the Blizzard Watch crew's characters as posed by Matt Fossen (perhaps better known as The Cranky Tank on Twitter). Sure, anyone can take a screenshot or an in-game selfie, but somehow my in-game artistry never looks anything like Mike Eng's or Trigonometry's or Matt's.
So just how can something that seems like it should be so simple be so difficult to do well? I caught up with Matt, who creates character art and badges based on in-game models and screenshots, to see just how he makes his images. Spoiler alert: it takes more steps than just hitting print screen.

What Blizzard games do you play, and as what?
The bulk of my playing time is spent in WoW, where I play a Protection Warrior. [Editor's note: This Matt should not be confused for our in-house Protection Warrior, Matthew Rossi.] I also play Hearthstone (terribly), Diablo 3 (I rolled my first seasonal character this summer), and a bit of Heroes of the Storm.
There are a lot of people who do badge and character art — why make yours based on in-game art?
Do you want the short answer or the long answer? Short answer: because I can't draw.
Long answer: I'm a big fan of WoW's in-game aesthetic, and I love finding ways to create scenes that look like they developed organically in-game. I also think that using in-game art assets gives me the flexibility to create pieces that I would be afraid to attempt by hand.

How did you get started?
I blame the Badge Babes and their incredibly awesome art! And by "blame," I mean to say that they inspired me to take the plunge and try creating art of my own. I'd been struggling with the desire to "be creative" for a long time, and seeing the wonderful art that was being produced during this year's BlizzCon Badge Season (TM) convinced me that "there's no time like the present."
Are your images screenshots, model manipulation, Photoshop, or all of the above?
All of the above. I pose the character models in WoW Model Viewer, while the backgrounds are taken from a rapidly-growing archive of screenshots that I've been curating. I use Photoshop to bring everything together for the final product.
Not all in-game art is particularly sharp or high-rez (especially older armor models); how do you get all of your images to look so crisp?
As much as I love some of the older armor sets, they really show their age when they're in the same image as a new character face model. A key part of my Photoshop workflow is emphasizing the various textures found on even the simplest pieces of gear. I'll sharpen any edges that look dull, emphasize shadows and highlights, and add subtle glow effects to highlight colorful bits. If a piece of gear is truly hopeless, I'll go back and try to alter the character's pose to hide the worst parts.

Could you give us a step-by-step on what's involved in making one of your badges?
I start with a look at the character's armory page to get a feel for their "personality." Their transmog gear (if any), race/class/spec combination, and recent activities all help me decide how I want to pose them. From there I head over to WoW Model Viewer, where I pose the character and make any tweaks required by difficult armor pieces (shoulders, I'm looking at you).
Everything else take place in Photoshop: touching up the character model itself, placing the background art, and adding any hand-drawn elements as needed.
What are you working on next?
I'd like to start dabbling in overlays for Twitch/YouTube. I'm also looking to improve how I draw shadows and spell effects, since I think they can really make a piece "pop." My ultimate goal is to transition away from using models and into hand-drawn pieces, but that's probably many months in the future. In the meantime, I'm always open for free commissions!
That's all for BlizzCrafts today — but check back next week for another selection of cool Blizzard-themed crafts! Have Blizzard arts and crafts of your own you'd like to see on Blizzard Watch? Send them our way– submissions and suggestions should be sent to liz at blizzardwatch dot com.