WoW
Jan 14, 2016 8:34 am CT
Legion Challenge Mode affixes datamined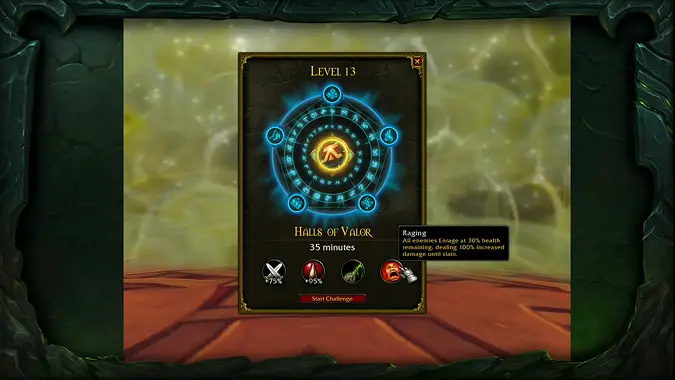 Back at BlizzCon, the World of Warcraft developers teased Keystones as a new approach to Challenge Mode dungeons. Upon finding and using a Challenger's Keystone, you're directed to a particular dungeon which, based on difficulty, will add new challenges to a dungeon known as affixes.
Example Challenge affixes mentioned at BlizzCon were enemies which enrage at low health, enemies with extra health, enemies which explode upon death, or dungeons with just plain more enemies. In the latest build of the Legion alpha, we get our first glimpse of actual datamined challenge affixes.
The following affixes were discovered in the latest build:
Decay: All players suffer 5000 damage every 3 sec while the challenge is active.
Skittish: Threat generated on all enemies decays very rapidly.
Attenuated: Player damage dealt to all enemies is reduced the farther the attacker is from a target, up to a maximum of 50%.
Necrotic: All enemies' melee attacks apply a stacking disease that inflicts damage over time and reduces healing received.
Teeming: Additional non-boss enemies are present throughout the dungeon.
Raging: When any non-boss enemy reaches 30% health remaining, it enrages, dealing 100% increased damage until defeated.
Bolstering: When any non-boss enemy dies, its death cry empowers nearby allies, increasing their maximum health and damage by 20%.
Tyrannical: Boss enemies have 50% more health and inflict up to 30% increased damage.
Healers aren't going to enjoy the Decay affix, but others seem to require adjustments in strategy (small and large): Decay likely means a healer will need to heal more and that's all there is to it. If you get a Bolstering affix, your strategy might involve ensuring everything dies at the same time. On the other hand, if you get Raging, you'll have an emphasis on focus fire — burning enemies down one at a time as quickly as possible. A dungeon with both Teeming and Bolstering would be a nightmare.
Personally, I hope this is only an early sampling. These Challenge Mode affixes have the potential to keep gameplay fresh for quite a long time — but if the pool of affixes is too small, players will tire of them too quickly to remain engaging.