Li-Ming nerfs arrive with the latest Heroes balance patch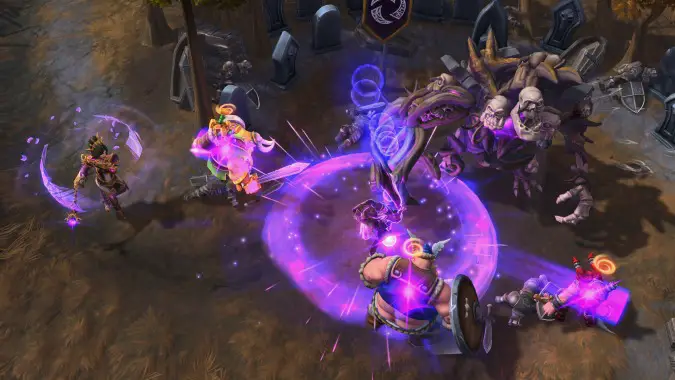 When the last balance patch for Heroes of the Storm hit, Blizzard warned us that they were going to make some "adjustments" to Li-Ming and here they are. Astral Presence, Diamond Skin, Tal Rasha's Elements, and Magic Missiles have all been dialed down, while the Ess of Johan talent has been removed and the Triumvirate talent gets a small buff. The devs explain:
Her ability to deal incredible damage is awesome, it was just happening too often, too easily.
Also getting tweaks in today's patch are Rehgar — who just got a buff at the end of January — whose Lightning Shield is changing to dial down its upfront damage by cutting the damage bonus per stack in half while doubling the number of stacks. Rounding out today's changes are Anub'arak, who gets a small survivability buff, and Stitches, who gets a small nerf to Last Bite.
Check out the full patch notes below, alongside developer comments.
ASSASSIN
LI-MING
Astral Presence (Talent)

Mana Regeneration bonus now only triggers while below 25% Mana, rather than 50%

Diamond Skin (Talent)

Shield amount decreased from 25% to 20% of maximum Health

Tal Rasha's Elements (Talent)

Ability Power bonus decreased from 20% to 10%

Magic Missiles (Q)

Damage reduced from 147 (+3.5% per level) to 147 (+3% per level)

Arcane Orb (W)

Ess of Johan (Talent) removed
Triumvirate (Talent)

Distance traveled requirement reduced from 80% to 65% of maximum distance
Developer Comments: Li-Ming is a little too strong right now. Her ability to deal incredible damage is awesome, it was just happening too often, too easily. We've nerfed Astral Presence and Diamond Skin to preserve a couple of her core weaknesses: Mana tension and fragility. We've also removed Ess of Johan, because we found that it made landing Magic Missiles too easy. While we know that a lot of players really enjoy Ess of Johan, we think that it will be better for Li-Ming in the long run to preserve her high skill cap.
SUPPORT
REHGAR
Lightning Shield (W)

Rising Storm (Talent)

Damage bonus reduced from  20% to 10% per stack
Maximum stacks increased from 10 to 20
Developer Comments: Rehgar is still doing too much damage with his Lightning Shield. We like the high potential for damage output in this Talent, as chasing the dream is fun! However, we found that Rehgar players were reaching high damage values too fast, and reaching maximum stacks early became the rule rather than the exception.
WARRIOR
ANUB'ARAK
Hardened Carapace (W)

Shield amount increased from 242 (+4% per level) to 260 (+4% per level)
Developer Comments: Anub'arak's survivability is a little low right now, though not by much. We think that increasing it by buffing his low cooldown Shield helps him feel unique, and will give him a slight nudge toward becoming another enticing Warrior option at all levels of play.
STITCHES
Devour (E)

Last Bite (Talent)

Cooldown reduction on kill decreased from 15 to 12 seconds
Developer Comments: We started to notice a few situations where Stitches, after selecting Last Bite, would feel nigh unkillable when fighting near Minion waves or around Battleground Events that featured lots of small Monsters, like Infernal Shrines. We think this smaller nerf will embrace those situations without allowing them get out of control.