Breakfast Topic: How important is game environment?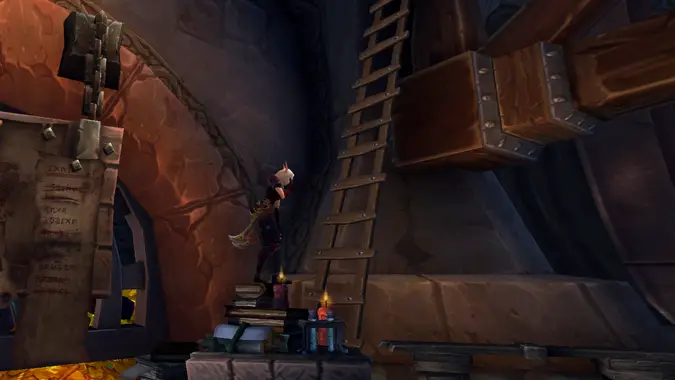 I've once again run into my eternal nemesis in Legion. No, I'm not talking about demons or satyrs or naga, or moose — I'm talking about the ladder. Literally. There's ladders all over the place in Dalaran, and they are visually pleasing indicators that there is somewhere to go. Somewhere higher up. Somewhere utterly intriguing. Unfortunately, my character can't climb ladders — and so the ladders simply sit there, part of the landscape that is often viewed, but never actually played with. I don't know why it's ladders in particular that bother me. I mean, there are plenty of things sitting around Azeroth that you simply can't do anything with — lights you can't turn off, candles you can't blow out, books you can't read, toys you can't pick up and snuggle.
But ladders…for some reason ladders always throw me for a loop. I think it's mostly because I expect them to go somewhere. They're like invitations for an exploration party that for some inexplicable reason I'm physically incapable of attending.
Game environment is one of those things I don't really think about unless I find something that sticks out like a sore thumb — or ladder, in this case. The surroundings I'm playing in don't usually have a heavy impact on what I'm doing, unless that environment is somehow preventing that whole journey from point a to point b, or it's something that I have to be actively using, like a lever to open a door, or a button to start a boss encounter. But weirdly enough, I find myself taking the most delight from those moments in which you can play with the environment, but it's not actually for any useful purpose. There's no reason why we should be planting flowers in Dalaran, realistically, but I'm overjoyed and consistently amused that we can.
Which makes me wonder if that's a product of having an interactive environment, or if the reason I take so much delight in these little things is because they're so seldom seen. If I could click on every flowerpot, being able to do so in Dalaran wouldn't really have an impact, would it? And I suppose if I could actually climb all those ladders sitting around, I wouldn't really wonder about what's up there — I'd just go find out, and it'd lose all that mystery.
How much do you guys pay attention to the game world around you? Is game environment one of those things that you look for — are you constantly looking at all the little details? Do you deliberately try to hunt down every clickable thing you can find? Or are you far more interested in questgivers, dungeons, vendors and other things that are meant to be interacted with? Do you look for all the little things in game environment, or do you just go about your business?