Play alongside Chief Elder Kanai in new Diablo 3 cow level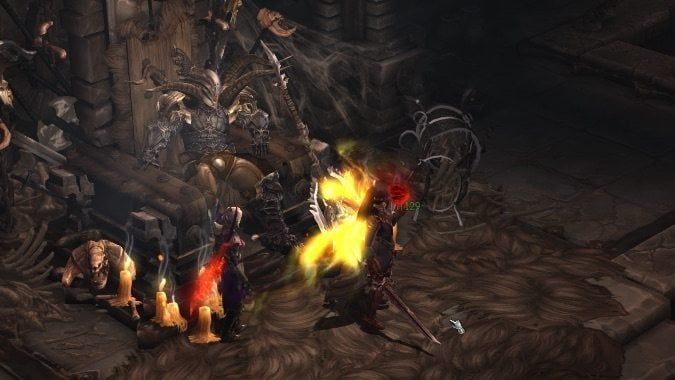 Inside the Ruins of Sescheron in Act 3 of Diablo 3, players could venture into the Immortal Throne Room, where spirits of long-dead Barbarians stood watch over the body of Chief Elder Kanai. Exploring this small corner of Sanctuary, players were told that the time was not yet right — there was nothing you could interact with and nothing to fight in the throne room.
Until now.
Players who head into the Immortal Throne Room in March will be treated to an all-new cow level in which Kanai himself accompanies you on your mission to slaughter the bovine minions of darkness. There's no trick to getting to this new level: just head to the throne room. When you enter, torches will light and Kanai will stand to open a portal to Kanai's Stomping Grounds. There are no bosses or special loot events inside, just lots and lots of cows for you to kill — making it a good place to rack up kill streaks.
So why is this event only showing up now? Kanai — and Kanai's Cube, which we've come to know and love since patch 2.3 — is a tribute to former Blizzard artist Kevin Kanai Griffith. Kevin worked on  the Burning Crusade, Wrath of the Lich King, Mists of Pandaria, the World of Warcraft TCG, and both Diablo 3 and the Reaper of Souls expansion. He passed away from cancer in 2014, but the team decided to immortalize him in the game, where Kanai sits on his throne in the armor Kevin's in-game Barbarian wore. March would have been Kevin's birthday, so it's an appropriate time to fight alongside him in Diablo.
While the event doesn't have much in the way of exciting new content, it's a great tribute, and we expect it to be available throughout the month. Head to the Ruins of Sescheron to check it out or check out the video walkthrough by Rhykker, below.