Monstrous good times with Bennyfits on Twitch
Benny, aka bennyfits on Twitch, has been quietly working his way through Diablo 3 (and a little Hearthstone on the side) for about a week now. He's pretty new to this whole streaming thing, but Benny isn't your average streamer — and he's managed to rack up quite the fanbase in just the short amount of time he's been around.
Benny is also a monster. And by that, we mean the blue, fuzzy, non-threatening kind — the kind that has friendly words and funny jokes for just about every situation he encounters. Since it's a little rare, to say the least, to find a monster streaming on Twitch, we asked Benny if he'd like to sit down with us and share a little bit about himself, his streaming, and gaming in general.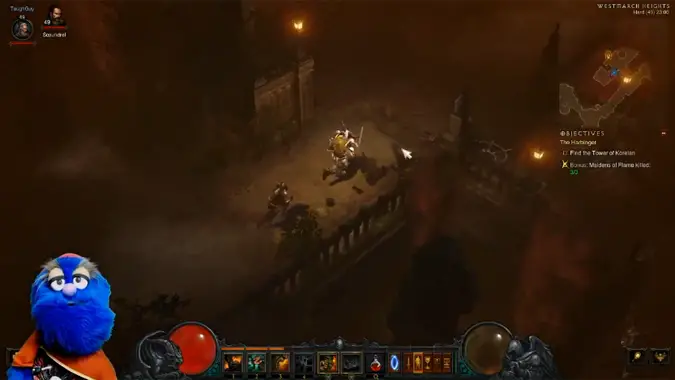 First off, can you tell us a little bit about yourself? How long have you been gaming?
Benny is 30 years old and a monster. Not a monster like Freddie Krueger or Sepp Blatter, a blue one who likes games, and people, and games again. Benny has been gaming since he was the smallest ball of fur and grandma got Benny an old Atari from a yard sale. Grandma has always tried to make sure Benny was happy.
What does your gaming setup look like?
Benny plays games in a room that is painted all green. It makes putting the game behind Benny so much easier. This is a good thing, a very good thing. Like not having change to feed the meter and finding out that the city removed the meters and gave everybody free parking… On your birthday.
What brought you to Twitch?
Benny was looking for Pokemon hints and found people actually playing Pokemon. Some of these people were very nice and said hello to people and talked to them. Benny thought this was a good way to find people to talk to so he started the Heart-stone because it reminded Benny of Michael Douglas who is Benny's mom's favorite actor.
You've gotten quite a bit of attention on Twitch recently, how do you feel about that?
Benny is not sure. Benny is actually very shy. Playing a game makes it much easier for Benny because when he starts feeling nervous he can just play the game.
You were playing Diablo 3 the other night, it looked like you were having lots of fun! Do you have a favorite class you like to play?
Benny only started Diablo 3 a few streams ago. Benny does have a lot of fun because Benny is playing a tough guy named ToughGuy because that is what he is. The tough guy does a lot of stomping and slamming things into the ground. It is loud and crazy and a lot of fun! You know you are having fun when you can yell while you play and it makes total sense to do it.
Are you playing with friends, or just the solo campaign? And if you're just playing the solo campaign, what do you think about the story so far?
You can play this game with other people? How do you do that? Do I need a second controller? Benny likes the story, but when Benny is streaming sometimes it is hard to keep up. So many people ask Benny questions. Benny gets lost in the game a lot. Benny is sorry to people watching him. Benny will try harder.
You can play Diablo 3 with other people on your friends list, over the internet! You get to smash things with your friends instead of all by yourself.

Benny would totally try that! Games are for everyone. You can play them alone or you can play them with friends. When you play with friends you share the fun. Why would Benny not do that?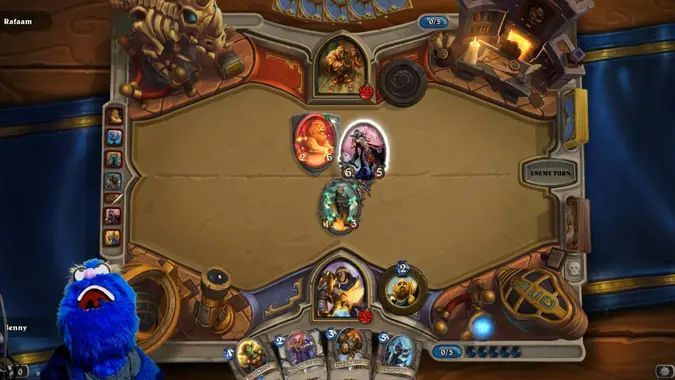 I think I heard you mention you play Hearthstone, too — do you have a class you like to play more than others? What kind of deck are you playing with?
Benny tried the girl with the fireball, she is good. Benny tried the short-haired girl with thing that gives you 2 of your health back but is not not good at playing her. Benny tried the medieval batman with the bow and could not beat the guy Benny was playing against, maybe try him again. Out of all of them Benny likes the yellow guy, you know, "The Lunchbringer". Benny wins a lot with him.
Would you call yourself a competitive gamer?
Benny is Benny. If the game makes you compete with other people that is good. Does Benny want to beat everyone? No. Benny wants to play and if you beat him, you did good. Benny will try his best. If Benny wins, that is good too and is glad that he got to play with you and that you tried your best. You cannot win them all but you can lose them all.
It looks like you really like Blizzard games — have you seen Overwatch? Any plans to play that, or maybe some Heroes of the Storm?
I have seen Overwatch but I cannot play it. My thing that has the games in it says "Play" but won't let me press it. I think this is a bug and I hope someone knows where I can report it. I will play Heroes of the Storm soon, I think. I think I want to get my Tough Guy to the end of Diablo first.
Have you ever been to BlizzCon?
You misspelled "cone". It is OK. Benny makes mistakes too. Benny has never had a BlizzCone. Is that what they call a snow cone where you are from? Benny has had those before, they are tasty but do not eat them too fast or your head will hate you even though you will not be able to stop eating this dangerous food.
Snowcones are delicious, but I was talking about BlizzCon — it's a convention where lots of gamers get together to have fun, meet all the people that make Blizzard games, and hear about any new stuff that might be coming out. And you get to play the games, too!
Benny is amazed that people do this.  Benny will have to ask mom.  Maybe Grandma will help!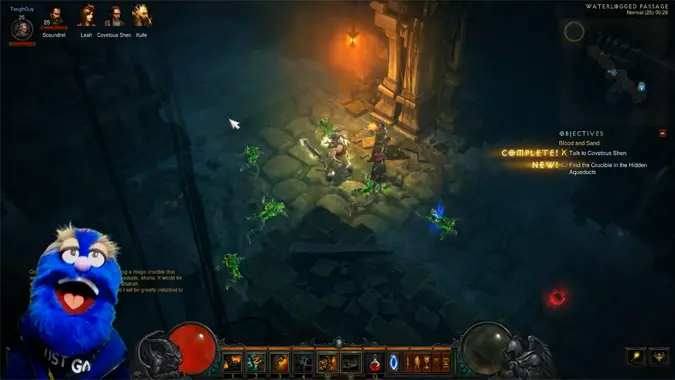 What matters most to you when you're playing (story, playing with friends, fun factor, beating the game, etc)?
Benny thinks you cannot have one of these without at least some of the others. A good game is like a delicious taco. If it was just meat and shell you would not enjoy it so much. You need cheese, maybe some sour cream on there. Maybe some lettuce… Benny may need to speed this interview up; Benny is hungry. A good game has the best of these things. A story that makes you feel like you did something or took you on a journey. Ways to share that with friends. Fun play that gives you a sense that finishing was worth it or makes you want a new adventure.
Do you have any advice for someone who wants to get into streaming?
Do what you do. Whatever it is that you do, do it in a way that makes it you. It is OK to copy something you like if you do it your way. Don't try to be anyone else. If you do you will rob us all of the awesome thing that you are.
Any words of wisdom for gamers in general?
Community will always be better than competition. We can all play together in ways Benny never could with his Atari. It is no good for us to play against each other if when we are done we cannot be a community that makes more people want to be a part of us.
Where can people find you?
At my grandma's house, or Chili's, or maybe the taco place near the grocery store. Oh, yeah… On Twitch at bennyfits and Twitter at bennyfitstv.
Thanks so much for the interview, Benny — we hope to see you streaming on Twitch for a long time!