It's Official: Overwatch early access May 3, open beta May 5, release May 24
Updated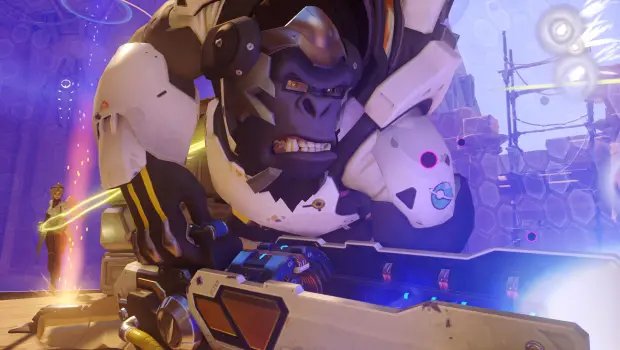 Originally leaked in an ad by IGN, Blizzard has now officially confirmed that Overwatch will launch on May 24 for Windows, PlayStation 4, and Xbox One. Anyone who pre-orders before April 29 will get early access to the beta starting on on May 3 — while there will be a fully open beta available to anyone starting on May 5.
If you want in on the action, you can pre-order Overwatch or the game's Origins Edition or Collector's Edition, both of which come with extra content for Overwatch and other Blizzard games (including an absolutely adorable baby Winston pet for World of Warcraft). And in addition to beta access, all pre-orders come with the Noire Widowmaker skin.
Check out the release trailer as well as our original post about the IGN leak below.
There's also a new developer update from Game Director Jeff Kaplan clarifying a few points about the upcoming beta. First up, the open beta will be available to absolutely everyone for all gameplay regions, on Windows, PlayStation 4, and Xbox One. For console gamers, note that Xbox One players will need Xbox Live Gold to participate in the open beta and play the game after launch, while PlayStation 4 players won't need PlayStation Plus to participate in the beta, but will need it to play once the game has gone live — and that there's no cross-platform play in beta or at launch.
If you're still on the fence about whether to buy Overwatch, you'll get to try out everything, including all heroes and maps, from may 5 – 9. Anyone who pre-orders will get get two more days days of game access for both themselves and a friend, starting on May 3rd.
See the original post below: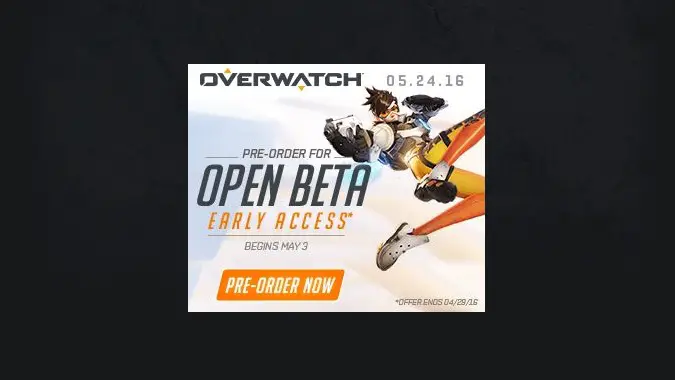 A strange ad has appeared on IGN's website that may have given away some news regarding Overwatch's official release. Seen above, the ad reveals that Overwatch will officially be released on May 24th — though that's not all! It appears that an "open beta early access" will begin on May 3rd for anyone who pre-orders the game before April 29th.
Though it's not loading any more, ad was first spotted over on Reddit and subsequently verified by multiple folks at Blizzard Watch. And, considering Overwatch's history — the game's "Origins Edition" package was leaked via early advertisements — it's not impossible we have another mistake on our hands. For those curious, May 24th is a Tuesday which fits with Blizzard's typical release goals (usually Tuesdays or Thursdays). Furthermore, May 24th would be keeping with the game's "Spring 2016" release goal.
For those of you with tight budgets right now, this would still give you a month and a half to pre-order to get in the game as early as possible — as well as pick up the pre-order only Noire Widowmaker skin. However, keep in mind this ad is all we know at the moment — and though we've seen leaks like this in the past that have proven true, until we get an official release date from Blizzard, take this with a grain of salt!