Overwatch: Top 15 Tracer Sprays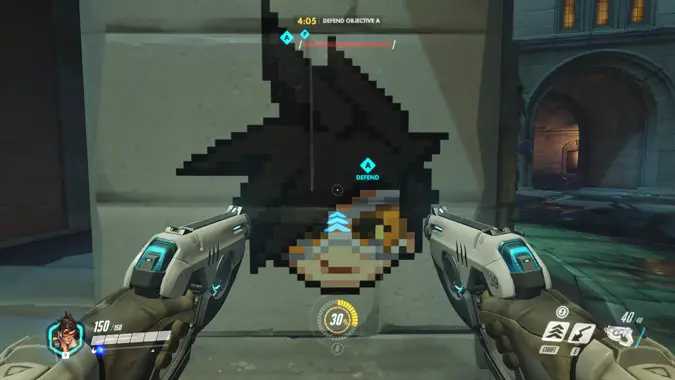 One of the fun features of Overwatch is the environment. Maps are colorful, with plenty of ways to get from point a to point b, and plenty of places to hide. Even more fun is the environment itself — players can gleefully smash video games, hurl popcorn around movie theaters, smack pinatas, try to shoot hoops, and much more. The Overwatch reward system is purely cosmetic — players won't get any gameplay boosts from what they find in their loot boxes, but they will get a variety of ways to differentiate themselves from their fellow players.
With sprays, you can actually affect the environment around you and spray paint a tag on the map, just to let everyone else know that you're around. Each hero in Overwatch has a set of custom sprays available through the loot boxes, as well as a variety of generic sprays that anyone can get. As with all rewards, getting a repeat spray in your loot box will award you currency, which you can then spend on more cosmetic upgrades — save it up for a skin, maybe a new highlight intro, or spend it on cool sprays.
To use a spray, simply equip whatever strikes your fancy through the Hero Gallery menu. Once you've chosen something interesting, face a wall on any of Overwatch's maps and press T to apply the spray. Currently, you can only put down one spray at a time — sorry, but it appears you won't be able to wallpaper King's Row with Tracer's beaming face. While Tracer has a boatload of custom sprays to choose from, some definitely stand out more than others — we've sorted through them all and picked our top 15 to share with you. Check out the gallery below, and don't forget that Overwatch will be hitting shelves on May 24.
Overwatch: Top 15 Tracer Sprays
[envira-gallery id="34592″]