Blizzard refreshes Diablo 2 and Warcraft 3 for new computers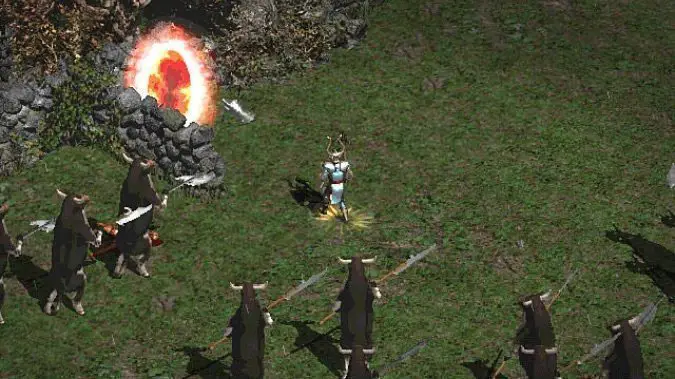 Hey, Diablo 2, Warcraft 3, it's been a while since we've talked, hasn't it? We used to have such good times together, but in the 15 years since you've been released it feels like we've grown apart…
At least that's how my reconciliation letter to these classic Blizzard titles starts. I just haven't managed to figure out what to say from there. Back when they were released — 2000 for Diablo 2 and 2002 for Warcraft 3 — I loved these games. Diablo 2, especially, I played all the time. But years passed, new games were released, and eventually these classic titles just wouldn't run on my latest computer.
But now, Blizzard has released patches for both that will bring them up to speed with the latest hardware and software. Maybe instead of finishing this post I'll just fire up Diablo 2 instead.
Okay, I was just kidding there. (Anyway, Diablo is still downloading.) Late last year, Blizzard started hiring developers to revamp these classic titles, and we're finally seeing the fruits of their labors. The updates to both games don't add any major changes, but instead focus on fixing bugs and updates for the latest OSes. Here's what's on deck for Diablo 2:
It's been a long time coming, but today we're releasing 1.14a for Diablo II.
This update focuses on system glitches introduced by modern operating systems. In related news, you can finally retire those old Mac PowerPCs. Included with the update is a shiny new installer for OSX.
We've also begun working to improve our cheat-detection and hack-prevention capabilities. There's still work to be done, but we're making improvements every day.
There is still a large Diablo II community around the world, and we thank you for continuing to play and slay with us. This journey starts by making Diablo II run on modern platforms, but it does not end there. See you in Sanctuary, adventurers.
While Warcraft 3 doesn't have official patch notes, forum-goer KnoWnNoW pulled these notes from the installer:
Specific Changes & Improvements
– Throw away that old PowerPC Mac in the closet, we've created a new installer to support Mac 10.10 and 10.11
– Improved compatibility with Windows 7, 8.1, and 10
– Fixed a crash caused by Chain Lightning
Known Issues
– Windows 8.1 and 10 saved games are still stored in a location that requires running as system admin
– Some graphical issues with the cinematics are still occurring
– Changes to gamma settings will not take effect in windowed mode
– Cyrillic characters are still not displaying
– Disabled ambient sound while a MIDI issue is being resolved
– Mac 10.9 and earlier are not supported
– Mac build does not support the editor
A video featuring Rob Bridenbecker, head of the Classic Games group at Blizzard, was also posted by a Chinese fansite, saying the patch is only a "first stop" for Warcraft 3 — so it sounds like we can look forward to more updates to come.
Now we're just waiting for the original StarCraft to show up. And, okay, The Lost Vikings, too.