Dorm and Super League stream this weekend in Heroes esports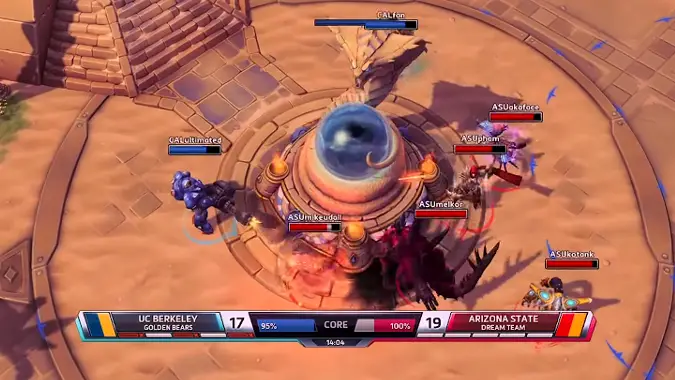 This weekend in Heroes of the Storm esports we're seeing the lead up for two of the biggest events of the season: Heroes of the Dorm and the Spring Global Championships. With both collegiate and professional tournaments eliminating teams in order to get to the finals, it's a good opportunity to learn what to expect from your favorites going forward.
And, of course, figure out which team you'll be rooting for in just a few weeks. Let's take a look at the match schedule below.
Heroes of the Dorm
This weekend's brackets will be crushed when the pool of hopefuls is slashed from 64 to 32 on Saturday March 19 starting at 9AM CT, then culled further to 16 teams on Sunday the 20th, also at 9AM CT. You can watch these young hopefuls have their dreams of free tuition destroyed on the official Heroes of the Storm YouTube or Twitch streams, or on ESPN's streaming service.
You have until 11:59PM PT tonight to finish up your personal bracket for a chance to win an Azmodan bundle. The top 500 most correct brackets will nab this bundle, featuring his incredible Azmodunk skin, and the single most accurate wins $10,000 cold hard cash, so it's definitely worth a shot.
My bracket has ASU coming out on top. Last year's runners up went HAM on the core but it wasn't enough to win them tuition, so they're back with a vengeance. I have a soft spot for their roster, especially Michael Udall, whose glorious coiffure was rated by Gillyweed as 6.5/10 in the bracket reveal. He and his teammate akaface were on the competitive ladder with the recently disbanded Panda Global, so they've kept their skills sharp. However, UT Arlington fields an impressive team with Yuuj at its head and his Team Blaze teammate Kladeous alongside. Also notable is Boston College, which brings part of the Pool Plato ST roster with King Plato and Apaulo, who both competed in the Dorm tournament last year. I let the Cornell team slip through on my bracket only because of their stellar team name–HotS is Gorges.
This bracket is huge, so sometimes you've got to pick on regional flair.
Spring Regional Finals
There are two regional finals this weekend leading up to the Spring Global Championship in two weeks. Copa América Regionals features two teams from Chile, one from Peru, and one from Brazil to decide who's going to represent the Latin America region. There are only Spanish and Portuguese Twitch streams for this tournament, which will start Saturday March 19th at 10PM CT.
Super League Grand Finals out of Korea may be the more anticipated tournament. It features the team currently ranked first worldwide, MVP Black. If you'd like to see their skills in action before the Global Championship, the English cast will be hosted on Twitch by OGN Global with casters Artosis and Wolf, starting Sunday March 20th at 12AM CT (read: midnight).