Azmodunk, beast of the Burning Court skin coming to the Nexus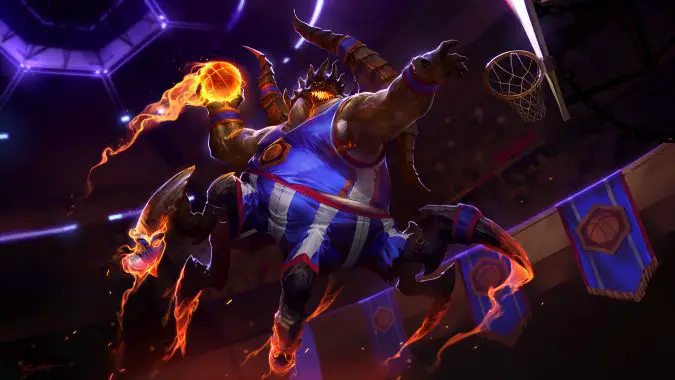 Just one hour after Liz and I decided there was no way any skin could top Pajamathur, a challenger entered the fray to test that decision. And good lord, did he challenge it ever. Coming to Heroes of the Storm on April 12, Azmodan will be getting a legendary Azmodunk skin. The skin will come with custom animations, unique voice-over, brand-new ability effects, and a very special Azmodunk Banner mount. But that's not all! Players will have multiple opportunities to win their own Azmodunk bundle through the upcoming Heroes of the Dorm tournament. Full details, video preview, and the truest test of self-restraint after the break.
For those of you (somehow) still unaware of the origin of the Azmodunk that I continually fawn over, be sure to check out the original video here. And now that everyone reading this post will surely want to acquire this skin, Blizzard has decided to reward Heroes of the Dorm viewers with a chance to win their own Azmodunk bundle. Attending the event in person will automatically grant you the bundle, while at-home viewers can obtain it by creating a Heroes of the Dorm bracket and successfully making it into the top 500 (look for the chance to create your bracket on the Heroes of the Dorm site starting March 13).
Not only that, the final skin variation and special Azmodunk Banner will be determined by the winner of the Heroes of the Dorm tournament. If you've ever wanted to see your favorite college represented in-game in the best way possible, now's your chance. (Here's hoping a maize and blue Azmodunk skin is on the way!) Be sure to check out the official Blizzard post and preview video below. See you in the Nexus!