Stormwind Park to (finally) be rebuilt, plus Legion spoilers
Updated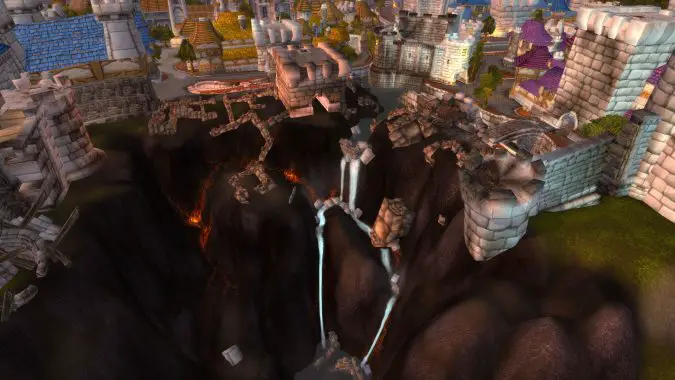 It is a question as old as anyone can remember. A question asked through the ages, so old it has become a meme among the citizens of Azeroth. "When will the Stormwind Park be fixed?" Ask no longer, Alliance, for Lead Game Designer Tom Chilton (AKA Kalgan) recently graced the official forums with his presence to alert players that the hole in Stormwind left by Deathwing during Cataclysm will finally be fixed.
Please note: there are major spoilers for the Alliance portion of the Broken Shore introduction after the break.
Player Adamantt was wondering (along with many alpha testers) where exactly Varian had been buried following his unfortunate demise at the Broken Shore. Likely expecting only responses from fellow speculative players, readers were treated with the news that not only was a monument to Varian to be placed in Stormwind, but that it would be in the soon-to-be-rebuilt park. In his words:
The hard-working citizens of Stormwind have been hard at work rebuilding the remaining destroyed section of the city. It is there that a monument of such significance will go.
This is good news for pretty much everyone, as we've seen the production of town-in-a-boxes from Goblins, the settlement and fortification of an entire Dragonmaw village in Twilight Highlands, the rebuilding of Orgrimmar, the construction of a park-sized garrison, and numerous other architectural advancements made all before the Park was rebuilt.
Now the only question that remains is whether or not anyone thought to relocate the body of Varian's wife to be closer to her husband.
Update: While a full-on park is yet to come, Wowhead has datamined several models of the monument to Varian. Be sure to check them out under the spoilers button here!