Chromie lands in this week's free Heroes rotation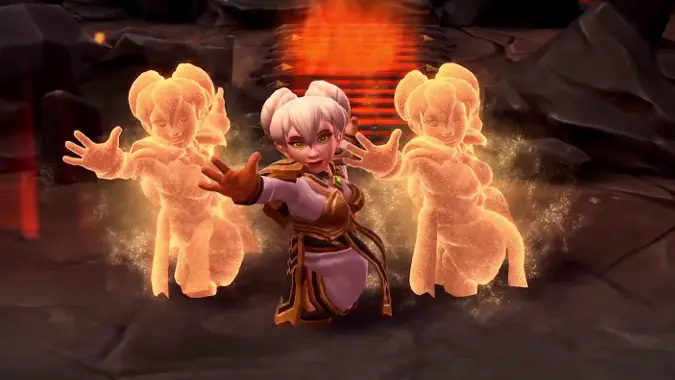 It's week two for Medivh in the Nexus, so just how is he shaking out? If you haven't picked him up yet, this weekend the entire hero roster will be free to play so it's a good time to see if he suits your playstyle. (And if you've decided to buy him, we recommend waiting until next week when his price drops to 10,000 gold.) On top of that, we have a new balance patch coming soon: this one targeting Kael'thas, Chromie, and Rehgar. Check out the full patch notes for all the details.
So now let's take a look at this week's rotation — sigh, Raynor again? — which brings Chromie to the freebie's list for the first time. If you haven't been sure about picking her up, now's the time to give her a test drive.
So let's check out who else is on deck this week and dig into the team's opinions on Medivh.
So, what about Medivh?
Mitch: I'm actually finding him way more fun than I expected. I'm still sticking to AI with him because I'm pretty sure he won't do as well in QM or Hero League, but he's fun no less. The one talent that feels practically mandatory, though, is one that changes his Q's mana refund to 100%. Speccing it that way, he can basically fire them off non-stop with no downsides (assuming heroes are close by). I'm sure this is a lot more dangerous against real people, though, since Medivh is crazy squishy.
His portal is very much like the original Lightwell in WoW. No one freaking clicks on it. I have seen multiple players trying to escape a horde of enemy heroes only to run from one portal to the next but die along the way instead of, you know, clicking the portal to begin with. Ugh, I have feelings about this.
Lastly, Poly Bomb is a high-risk, even-higher-reward ultimate that is crazy fun if you can manage to mess up the whole enemy team. Again, it's an AI match, so a little easier to pull off, but I managed to do exactly that one game and it was glorious.
Liz: I tried Medivh out for long enough to realize I'm terrible at playing Medivh. I probably need to stick to skill level: Li Li type heroes.
Assassins
Butcher
Chromie (unlocked at player level 15)
Raynor
Valla
Joe: I have no thoughts aside from Valla is still lots of fun.
Anna: I agree with Joe. Valla is super fun.
Liz: I've always been delighted by how much these Diablo characters play like their alternate-game counterparts. I love Demon Hunters in Diablo 3, so I love Valla.
Specialists
Zagara (unlocked at player level 5)
Support
Brightwing (unlocked at player level 12)
Anna: Brightwing saw play in the pivotal game five grand finals yesterday! Her global presence figured in big in the winning strategy on the huge Towers of Doom map. It was a relatively unorthodox, but powerful pick. Playing her takes a bit of getting used to. Don't worry about getting too mana starved as Brightwing. If you go OOM, you can hearth and then immediately teleport back into the fray with your Z key.
Liz: Though it's not tactically useful, Brightwing definitely has the best emotes in the game.
Tyrande
Warriors
Leoric (unlocked at player level 7)
Muradin
Tyrael
Anna: One thing we saw highlighted a bit over the weekend was just how much the Asia regions love Tyrael. The Western teams don't tend to pick him at all, so it was fun to see him strut his stuff a bit. His Sanctification is an extremely strong talent whether you're a pro or not.
That's it for this week's rotation, folks. We're sure to bump into each other in the Nexus this weekend as everyone dives in to check out the heroes they don't yet own. Is there anyone in particular you're looking forward to trying out? Let us know (so we can think up the best counter-heroes, obviously)!