Medivh gets a buff and a price cut with the week's Heroes rotation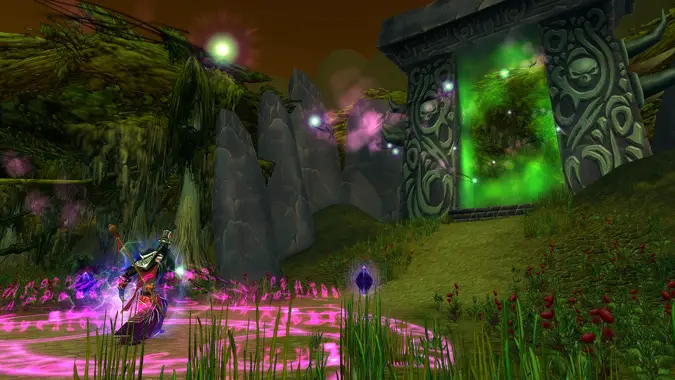 Happy Tuesday, everyone! And because it's Tuesday it's time for a brand new free rotation in Heroes of the Storm. But on top of the regular rotation this week Medivh's price will drop to 10,000 gold and a new balance patch gives him some nice buffs. Leoric fans will also be pleased by buffs to Drain Hope and Willing Vessel but Anub'arak is getting a small nerf to health and health regeneration.
Medivh seems likely to be a complicated hero to balance as his skills are most beneficial to a coordinated team — but does keeping him balanced for high skill players mean he's doomed to be of no use to everyone else? Blizzard's answer, so far, is "strategic buffs:"
While we are still excitedly waiting to see what competitive teams will be able to do with this unique Hero, we have gathered enough data to see that Medivh could benefit from some strategic buffs. We realize Medivh's success is typically reliant on how much the rest of his team capitalizes on his abilities – so we have given him a bit more baseline power, which we hope will allow him to make a greater individual impact on a game's outcome.
We'll be watching how Medivh continues to develop, but in the meanwhile let's dive into this week's hero rotation.
Assassins
Kael'thas (Unlocked at player level 12)
Anna: Kael'thas is back as a big force in the meta. He has lots of burst and really great wave clear. Even in pug games, his Gravity Lapse can serve as a de facto shotcalling move, snaring one target so that his team can jump on that unlucky sap. The trade off is a bit of fragility and limited escape, so if you're playing Kael plan your engagements wisely.
Nova (Unlocked at player level 15)
Anna: Nothing brings out the salt like first pick Nova in Hero League.
Valla
Anna: Valla is an excellent pick if you're just picking up the game. Her abilities have just enough flavor to be engaging, but without the skillshots required for heroes like Li-Ming. She can pick up a decent bit of sustain through talent choices, but she has several different builds to change how she counters her opponents.
Specialists
Azmodan
Anna: Azmodan has been popping up occasionally, mostly due to wave clear. Also, his dunks are very flashy and make for great highlight reels. If you're playing him on a smaller map, try to position yourself in the middle lane, or at least where the lanes are closest together. Hopefully you can then pick off dunks across several lanes, rather than building on stacks on just one. More dunks, more dps.
Gazlowe (Unlocked at player level 7)
Support
Malfurion
Uther
Warriors
Anub'arak
Liz: Anub is getting a nerf to health and health regen this week, but probably not enough to keep him out of the game. There's still no escaping his beetles!
Artanis
Arthas (Unlocked at player level 5)
And that's this week's rotation! With Medivh getting a price drop and buffs this week, will you be picking up the game's latest Specialist? Or are you holding out for our next possible hero/villain, Gul'dan? Of course Gul'dan isn't officially confirmed just yet, but we think it's a safe bet that he's coming up soon on the Heroes agenda.