BlizzCon virtual ticket and goody bags now for sale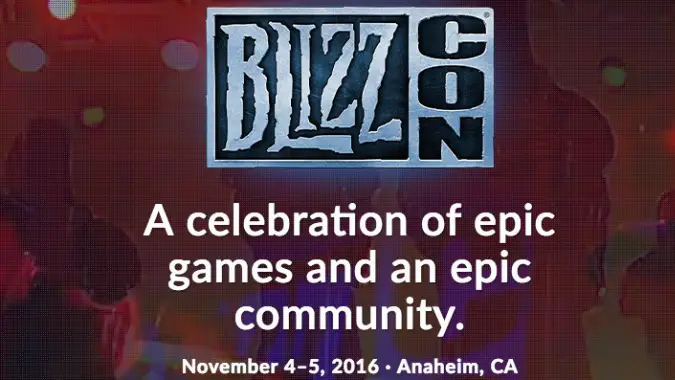 BlizzCon 2016 is right around the corner, and today virtual tickets have gone on sale. If you've never bought a virtual ticket, it's a great way to keep up with all things BlizzCon from home (though of course you can always keep up with the latest on Blizzard Watch). This ticket gives you the virtual BlizzCon experience, letting you stream most panels, esports, and contests live as well as on demand.
For $40, we think it's a bargain.
Other perks include:
The same in-game goodies ticketholders receive
Access an online version of the BlizzCon store with unique merch
The ability to buy the BlizzCon physical goodie bag, packed with BlizzCon 2016-only gear
There's no word yet on which digital goodies we'll be getting as they've neither been announced nor are they in-game. Typically there's a WoW pet, a Hearthstone card back, a Diablo 3 banner, a Heroes of the Storm mount and/or portrait, and we certainly expect something Overwatch-related to be added — possibly a new spray or skin?
However, we do know what's in this year's goody bag:
World of Warcraft coaster
Overwatch inflatable Reinhardt hammer
Diablo polyhedral dice with bag
Hearthstone microfiber screen cleaning cloth
StarCraft zergling antenna topper
Heroes of the Storm ETC guitar pick keychain
BlizzCon Blizzard stein
Before you can get digital items or access to the store, you'll need to check your mailbox for your digital bonuses code and apply it to your Battle.net account. While the digital goodies and con-specific merch aren't available yet, you can apply the code now for access. However, goody bags are on sale now for virtual and physical ticketholders. All ticketholders will receive a bag at BlizzCon but can purchase an extra for a double dose of swag. If you want one you should grab it now — you can only buy one per account and last year they sold out fairly quickly.
If you already have a BlizzCon ticket, codes to get your digital bonuses (and access to the online store) went out this morning as well, so check your mailbox!