WoW
Sep 14, 2016 2:00 pm CT
Legion's Mythic Keystones are coming soon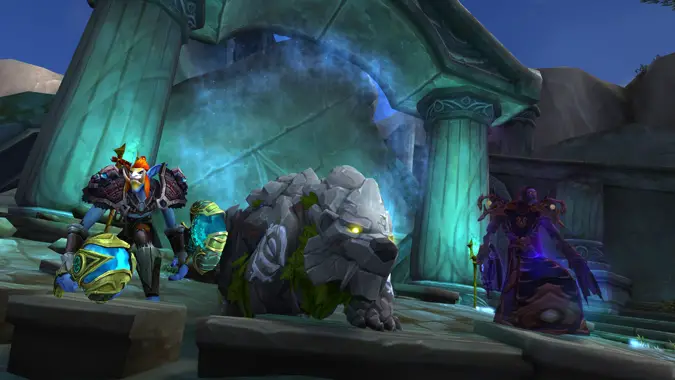 Today Blizzard released a preview of Mythic Keystones, an upcoming Legion feature. At the core, Mythic Keystones offer a way of changing Mythic 5-man dungeons to be more difficult — and more rewarding. A max item level of 895 gear may await adventurers who are up to the challenge. Like normal Mythics, you have to slap together your own group for five friends, as there's no dungeon finder.
The new Keystone modifiers you'll face are pretty interesting ways to change things, like the one where ranged players will have to contend with lava occasionally erupting from the ground. Mythic Keystones are coming on September 20th. This is the same day the new raids are coming, so get your game face on — read on for the full preview from Blizzard.
A new level of difficulty and rewards is coming soon to Legion's dungeons, and we've got a quick primer for you.
As in Warlords of Draenor, Legion dungeons come in three primary levels of difficulty and rewards: Normal, Heroic, and Mythic. Both Heroic and Mythic difficulties are only available to players at level 110, and you aren't able to queue for Mythic difficulty via the Dungeon Finder.
Keys of Stone
Starting on September 20, the first time you complete a Mythic dungeon each week, you'll be rewarded with a Mythic Keystone for a specific dungeon, chosen randomly from among all Mythic dungeons to which you have access. Your very first Keystone will enable access to Mythic Level 2, offering both increased difficulty and rewards.
We Move Swiftly
To activate your Mythic Keystone, assemble a team of five stalwart heroes, venture to the specified Mythic dungeon, and place the Keystone into the Font of Power just inside. If you don't interact with the Font, the dungeon will operate in its default Mythic state.
When players activate a Mythic Keystone, a timer begins counting down, and the group has a fixed amount of time to defeat the dungeon's bosses and a majority of the other enemy forces within the dungeon. Players who are familiar with Challenge Mode dungeons will find that this timer is quite forgiving—its purpose is not to encourage speed runs, but rather to provide a gauge for a well-executed run. Whether or not you beat the time, a chest containing a couple of pieces of loot awaits you at the end of your run.
If you successfully beat the time, your Keystone will be upgraded to a higher level and attuned to a new random dungeon. If you don't beat the time, your Mythic Keystone is "depleted." A depleted Keystone can be used to try to beat the timer in the hopes of getting a fresh upgraded Keystone, but runs started with a depleted Keystone will not award loot.
Increasing Challenges
With each increasing level of Mythic difficulty, the health and damage of enemies will increase. In addition, at Levels 4, 7, and 10, new modifiers are introduced that will require players to adapt and evolve to succeed.
Example Keystone modifiers include:
Raging—Non-boss enemies enrage at 30% health remaining, dealing 100% increased damage until defeated.
Bolstering—When any non-boss enemy dies, its death cry empowers nearby allies, increasing their maximum health and damage by 20%.
Skittish—Enemies pay far less attention to threat generated by tanks.
Volcanic—While in combat, enemies periodically cause gouts of flame to erupt beneath the feet of distant players.
These modifiers are visible on each Mythic Keystone, and all Keystones of the appropriate level will have the same modifiers during a given week.
Mythic Keystone Rewards
While creatures do not drop loot normally during a Mythic Keystone run, upon completion of the run, players will find a chest containing two high-quality items for the party. The base item level of these rewards starts at item level 845 for Mythic Level 2, and goes all the way up to item level 865 for a Mythic Level 10.
Please note: the end-of-dungeon reward quality will be capped at a base item level of 850 during the first week of the feature's availibility, with the full range of rewards unlocking once Mythic raids have opened the following week.
Like most end-game loot in Legion, these items also have a chance to be Warforged or Titanforged, allowing them to potentially scale all the way up to item level 895.
After completing any Mythic Keystone dungeon within the time limit (whether using your own Keystone or someone else's), a reward chest will be available in your Class Hall the following week. That chest contains a guaranteed piece of gear with a power level reflecting the highest Mythic level you completed during the prior week, up to a maximum of item level 880 for a successful Mythic Level 10 clear. It will also contain a new Mythic Keystone for you, which allows you to jump right back into your weekly Mythic dungeon adventures.
Get Ready
Mythic Keystones will start dropping on September 20. Are you prepared?