Get Tyrande in Hearthstone with Twitch Prime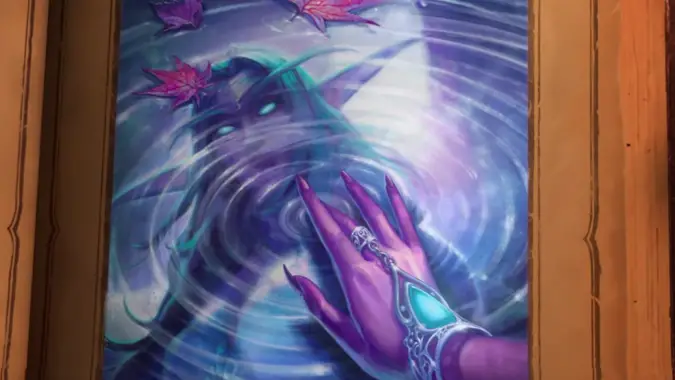 If you want the previously revealed Tyrande skin for Hearthstone, you're going to need a Twitch Prime account — or Amazon Prime, which are one and the same. Twitch Prime was announced earlier today at TwitchCon, and if you already have Amazon Prime, you now have Twitch Prime, too. You need merely to join your Twitch account to your Amazon Prime account to receive the following benefits:
Twitch Prime is a new premium experience on Twitch that is included with Amazon Prime. As a Twitch Prime member, you get free game loot every month, like instant access to the newest Hearthstone hero, Tyrande Whisperwind, or the new indie game, Streamline. You also receive discounts on new-release box games sold by Amazon during the pre-order period and for the first two weeks after launch. And on Twitch, once you link your Amazon Prime account to your Twitch account, you get an ad-free viewing experience, exclusive emotes and chat badge, and one free channel subscription every 30 days. When Twitch Prime members use their free channel subscription every month, the streamer gets paid just like any other subscription, so this introduces a new way to help support the streamers you love, even if you've never subscribed before. Or, you can just use it for crashing subscriber-only chat rooms. Your choice, boss!
You can check out the full details of Twitch Prime over on the Twitch blog, which includes a breakdown of Amazon Prime's pricing structure. If you don't have Amazon Prime, you can get started with a 30-day free trial. The full details of Tyrande herself are as follows:
High Priestess Tyrande Whisperwind has been a fierce protector of her people for millennia. Her wisdom is legend—she has seen kingdoms rise and fall, and she has faced every threat to Azeroth for thousands of years. She is the chosen of the goddess Elune, and under her leadership the Night Elves have survived and prevailed throughout history. Whether defeating demonic incursions, managing difficult relationships, or providing wise council to Azeroth's greatest leaders, Tyrande always knows the right play.
Ready to shine the light of Elune on your Hearthstone decks? Through November 5, you can add the new Priest hero, Tyrande Whisperwind, to your Hearthstone collection when you try Twitch Prime!
It's easy to get started! If you're already an Amazon Prime member, you can get Twitch Prime* benefits at no additional cost by connecting your Twitch.tv account to your existing Amazon Prime account at www.twitchprime.com. If you've never experienced Amazon Prime, you can sign up for a 30-day free trial now.
Time is short! Try Twitch Prime and bring Tyrande's wisdom to your Hearthstone collection today! Elune-Adore!
*Twitch Prime is available to all Amazon Prime members including Amazon Student, and is available to customers in the United States, Canada, UK, Germany, France, Italy, Spain, Belgium, and Austria.