Join Ion Hazzikostas for a post-BlizzCon Q&A on Friday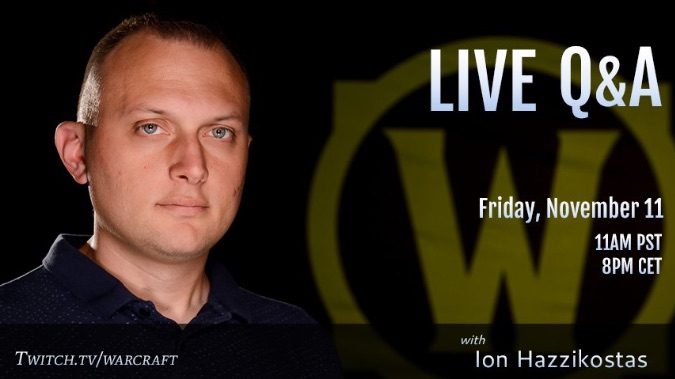 EDIT: This will now start at 11:15am Pacific.
Sure, we had a WoW Q&A at BlizzCon, but Ion Hazzikostas (Watcher) is returning for round two in a livestreamed Q&A session this Friday. The focus is on WoW's upcoming 7.1.5 and 7.2 patch content, which covers a lot of ground from the Brawler's Guild to Tomb of Sargeras. If you have questions — and of course you have questions — you can submit them now on the forums or send them to @Warcraft on Twitter using the hashtag #LegionQA. Try to keep questions short and to the point: CM Ornyx asks for 40 words or less.
The Q&A itself will be livestreamed on Twitch Friday, November 11 at 11:15AM Pacific. If you can't catch it live, you can read about it right here or watch the replay on Twitch or YouTube.
We'll see you there!