WoW
Jan 13, 2017 3:41 pm CT
Boon of the Nether change and more squished bugs in latest WoW hotfixes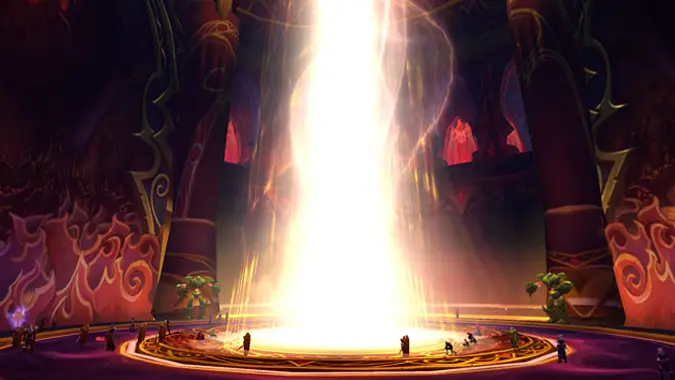 I know what you're thinking. "Liz, did we go an entire day without any hotfixes? Has patch 7.1.5 reached perfection?" And the answer of course, is no. (Because nothing is ever really perfect. It becomes perfect when you accept it for what it is… so get on that, people.) Today's hotfixes are primarily minor bug fixes with one notable change: the Boon of the Nether shoulder enchant now makes items soulbound. With Curious Coins becoming more common (they're now guaranteed with emissary caches), players have been able to grab this enchant… and then apply it to a set of shoulders to toss on the auction house. Unfortunately, gold-hunters, with these hotfixes those days are over.
Trying to keep up with everything in that's changed in patch 7.1.5? Here are the patch notes to date:
Now, on to today's full hotfix notes.
Brawler's Guild
Strange Thing is now immune to knockback.
Fixed a bug preventing the Thwack U encounter from ending properly.
Classes
Demon Hunter

Metamorphosis (Vengeance) will properly reset its cooldown after a raid encounter ends

Hunter

Ranger's Net will no longer proc Sephuz's Secret on a target that is immune to Roots.

Mage

Fixed the animation for Cold Snap.
Fixed a bug where Flurry's missiles were all launching at the same time, making it difficult to take advantage of Winter's Chill with a follow-up Ice Lance.

Shaman

Lava Lash will no longer incorrectly activate Windfury

Warlock

Impending Doom will now cause Doom to tick more often in addition to reducing its duration
Dungeons and Raids
The Sunwell

Burn cannot be taken outside of the instance.
Items
Using the reusable shoulder enchant, Boon of the Nether, should cause the item it is used on to become Soulbound.
The Ensemble: Tyrannical Gladiator's Ringmail Armor should now grant Horde Shaman the correct appearances.
Player versus Player
Demon Hunter

Mana Break now deals 5% of the target's health in damage base, up to 25% if they have 0% remaining mana.
First Blood's additional damage in PvP situations has been reduced to 100% additional damage (was 200%).
Fury of the Illidari deals 30% less damage in PvP situations.  This also reduces the amount of damage that Rage of the Illidari will deal to targets.
The additional auto-attack damage of Chaos Blades in PvP situations has been reduced to 150% additional damage (was 200%).
Professions
Enchanting

All three ranks of Mark of the Trained Soldier should now be categorized together.