Hearthstone Greater Crater Promotion for Journey to Un'goro packs now live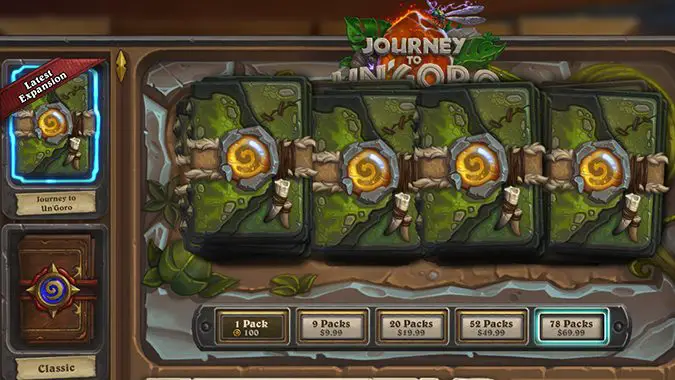 The Greater Crater promotion for Journey to Un'goro card packs is now live! The prices you pay will be the same as before, except now you're getting more packs to go with it.
Original: 7 packs, Promotion: 9 packs
Original: 15 packs, Promotion: 20 packs
Original: 40 packs, Promotion: 52 packs
Original: 60 packs, Promotion: 78 packs
Community Manager Daxxarri was able to clear up a few things with regards to the packs. Namely, if you buy them now, you can choose not to open it until the new expansion is live for the updated legendary and card duplicate system to kick in. Remember, starting with the next expansion, when you open card packs, you will not receive duplicate legendaries until you own either the golden or non-golden version of it. Not only that, you'll get a guaranteed legendary card within the first 10 packs of a new, unopened set.
There is your confirmation that you can sit on the packs until the Pandaria, Caverns of Time, Elemental Planes next expansion.