Garrosh Hellscream comes in like a ball that wrecks in his Hero spotlight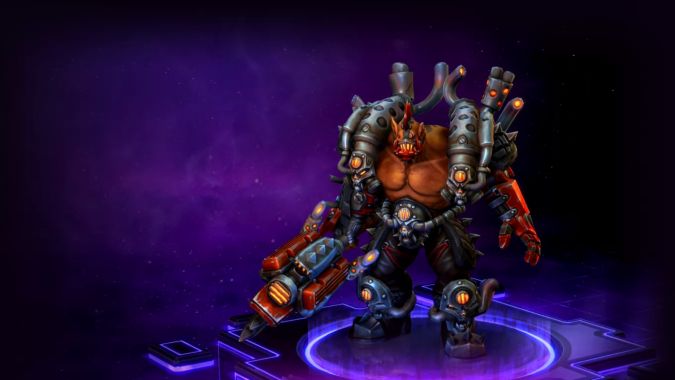 Garrosh Hellscream will be making his Heroes of the Storm debut in the near future, and like all heroes, he's received a hero spotlight to help get you pumped for his arrival. Oh, and obviously to give you a juicy preview of all his abilities.
Most of Garrosh's abilities are not exactly high-damage nukes, as he's intended to be a solo tank. Because of this, his primary ability will be Bloodthirst, which can be used to heal him. On top of that, his trait that converts missing health to armor means a low-health Garrosh won't be the type of tank a Valeera or Zeratul can simply gank from the shadows and expect an easy kill off of. He has several other abilities, however, and each looks to make for a solid overall kit.
Take a look:
Groundbreaker (Q) — Deal 81 damage to enemies in an area. Heroes hit on the outer edge are pulled toward Garrosh.
Bloodthirst (W) — Deal 156 damage to an enemy and heal for 10% of Garrosh's missing Health. Healing is increased by 100% against Heroes.
Wrecking Ball (E) — Throw a nearby enemy Hero, Minion, or Mercenary to the target location, dealing 91 damage to enemies near the impact and Slowing them by 30% for 2.5 seconds.
Warlord's Challenge (R) — Silence nearby Heroes and force them to attack Garrosh for 1.5 seconds.
Decimate (R) — Deal 50 damage to nearby enemies and Slow them by 30% for 1.5 seconds. Deals 100% more damage to Heroes, and each Hero hit reduces the cooldown by 1 second. Stores up to 3 charges.
Armor Up (Trait) — 

Garrosh gains 1 Armor for every 2% of maximum Health missing.
And, of course, the full hero spotlight which showcases all of these in action:
As I said above, Garrosh is a solo tank, which is a nice choice that will hopefully shift the Heroes meta a bit. He might not be the powerhouse Bruiser some had hoped for, but I'm excited to give him a try, despite him being, well, Garrosh.
Oh, and have you seen that Mad Max Axe skin above? Yes please.