WoW
Jul 31, 2017 12:04 pm CT
Get drunk with the Kirin Tor during today's Tavern Crawl micro-holiday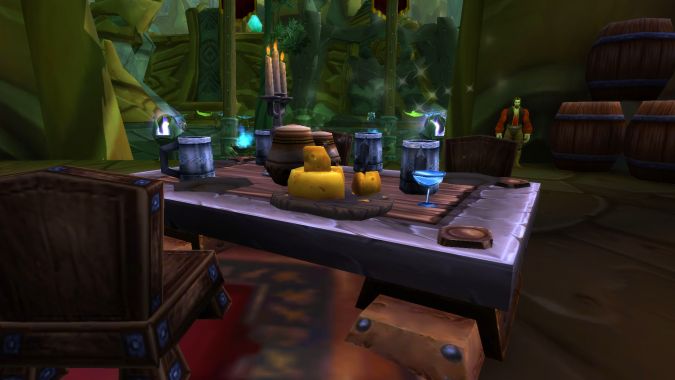 After its initial debut had to be postponed, the Kirin Tor Tavern Crawl micro-holiday has arrived in World of Warcraft — which means it's time to drink, drink, drink! The concept for this one is pretty much as simple as you've likely come to expect from micro-holidays: Hop from bar to bar around Azeroth and, well, drink!
Thankfully, the "hopping around" portion of the Tavern Crawl is made very simple thanks to Anebria Sunwine and Tipsi Wobblerune, Kirin Tor Magi who are essentially the WoW equivalent of Uber drivers who will happily take you to your next drunken destination. One of these NPCs — Anebria for Horde, Tipsi for Alliance — is waiting outside your respective faction's inn in Dalaran (the Legion one) and will offer to teleport you to the party, wherever that may currently be.

As you move from bar to bar, you'll find various foods and drinks scattered about, some of which provide some very amusing buffs — like the one that turned me into the above mug-toting demon. If you're interested in seeing a full list of these particular buffs, Wowhead has a nice post detailing the holiday in full.
Unfortunately, the holiday seems to be…a little buggy right now. Your Mage-turned-travel-guide, the holiday NPCs, and all the clickable food and drink seem to be phasing in and out of existence every few seconds at the moment. When you're trying to taste something new or accept a teleport from Anebria, this can lead to some incredibly frustrating near-clicks that disappear at the last second. Given the holiday's original postponement, it's hard not to think this particular issue is at least some variant of the original. Hopefully this will be fixed soon, lest we be frustrated to the point of drinking in real life.
Phasing issues aside, it's a fun little micro-holiday that's sure to remind you of all the taverns we've passed in our travels through Azeroth. Oh, and if you need a little extra motivation to give the Tavern Crawl a shot, Wowhead is currently giving away 5 Alterac Brew Pup pets for tweeting yourself at one of the bars having fun (just be sure to tag them and use the #kirintortaverncrawl hashtag). Cheers!