Awesome dad reenacts the Overwatch dances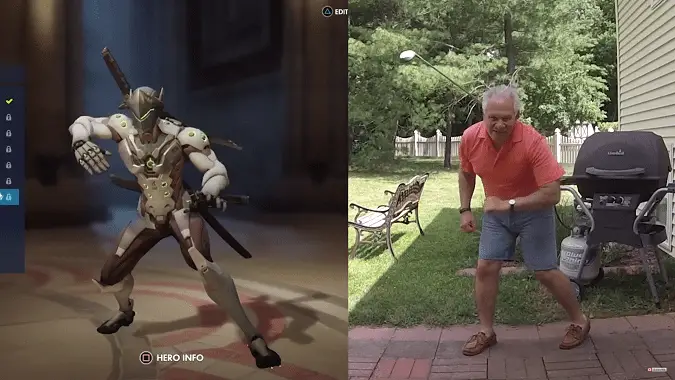 The Overwatch voice actors are certainly a fun bunch — from generally hanging out and being awesome to outright recreating their characters' dances, they're not exactly strangers to doing silly things on camera. But they're not the only ones who have fun bringing Overwatch into the real world. Case in point: This guy's dad, who apparently makes a habit out of impersonating video-game characters.
One of his latest impersonations is — you guessed it — that of the Overwatch characters. In a video that was shot, appropriately enough, in his backyard near a grill and his dog, this guy raises the bar for dads everywhere — mostly because of how dedicated he is to becoming each character. Mei's dance? Put on a parka. Winston's? Take off those shoes. McCree's? Cowboy hat. You get the idea.
The video is just under three-and-a-half minutes, and it was hard not to find myself smiling while watching. Seriously, try to watch this without at least cracking a smile:
But as it turns out, these dances are not the first of Awesome Dad's Overwatch impersonations. Back in May, he also took the time to reenact different emotes from the game as well. It's hard to say which video I like more, to be honest. The Overwatch dances are always a treat, but seeing even more props — especially ones that are so very "dad" — in the emote video is hard to top.
What do you all think? Is this the coolest dad ever? Should he reenact something else, or is there no way to top this?